I hope you guys enjoyed my first "Favorites" post when I shared tips and tools for organizing my kitchen, because today I'm taking you into my second favorite room to whip into shape – my bathrooms.  We have two full bathrooms and a powder room in our home and I use the same basic formulas for keeping them all neat, tidy, and above all super functional.  My number one goal for these spaces is too keep everything easily accessible (because I despise digging for my daily essentials) but as hidden as I can (because a cluttered bathroom makes me anxious).  With that, here are some of my favorite ideas, products, and tricks to bathroom bliss.  Apologies in advance for the unavoidable potty talk!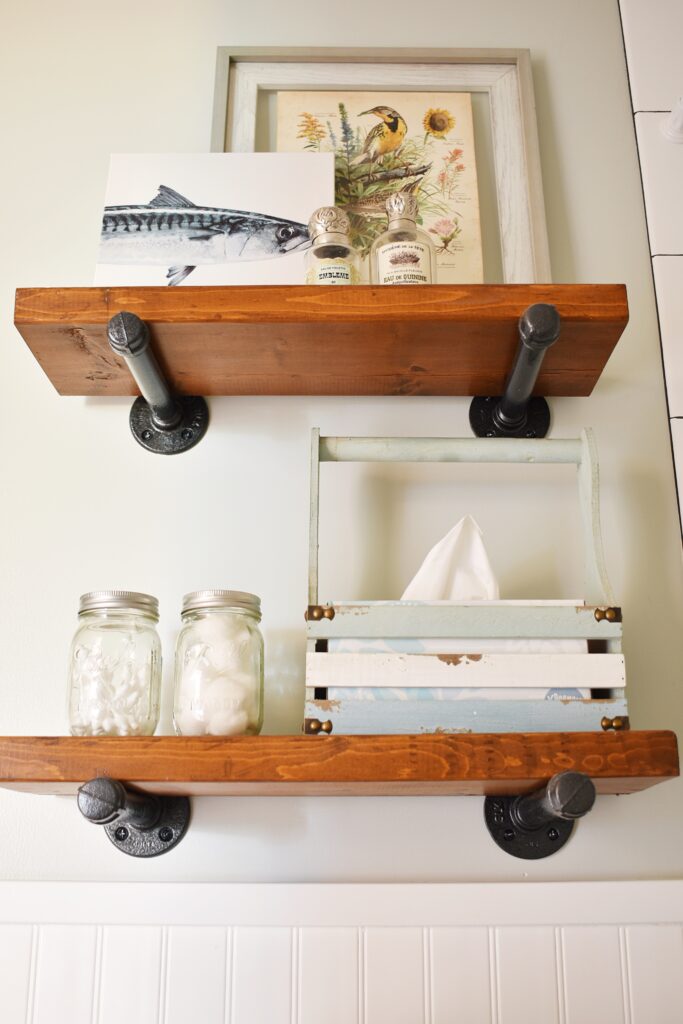 Adding Shelves Behind the Toilet – Maybe I'm weird, but having anything sitting on the top of my toilet tank drives me crazy!  If something goes really wrong and I need to access that tank I don't want any obstacles in my way.  Whether you share in my crazy talk or not, I still totally recommend adding some type of open shelving somewhere close to your toilet.  Not only is it great visual use of that empty space, but it is the perfect place to store extra bathroom supplies (tissues, toilet paper, towels), candles, and who doesn't love a place to add some special flare.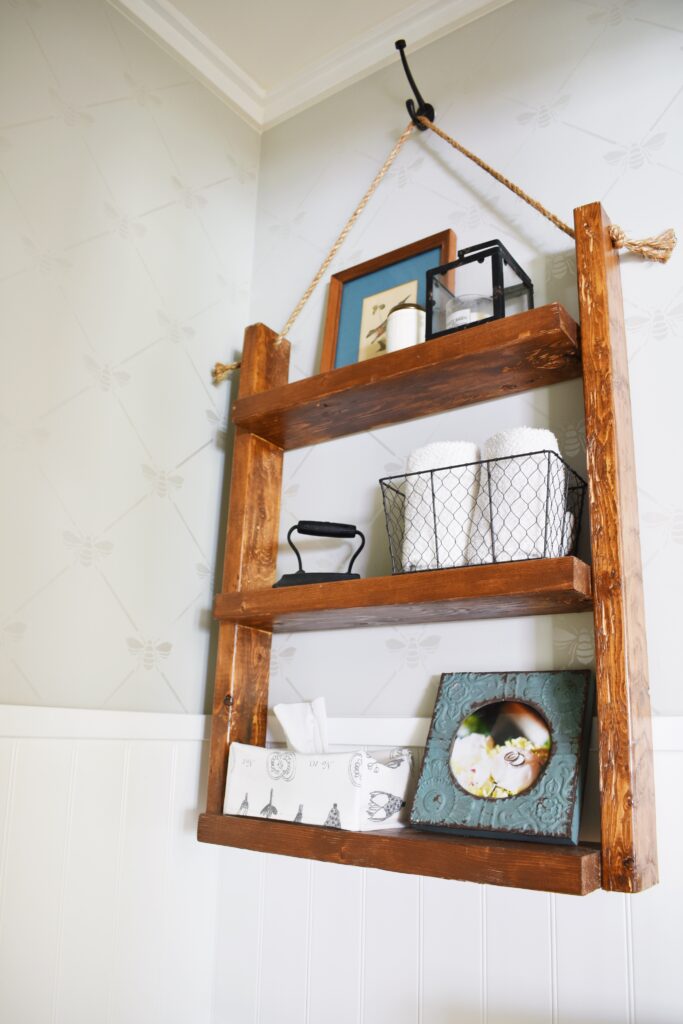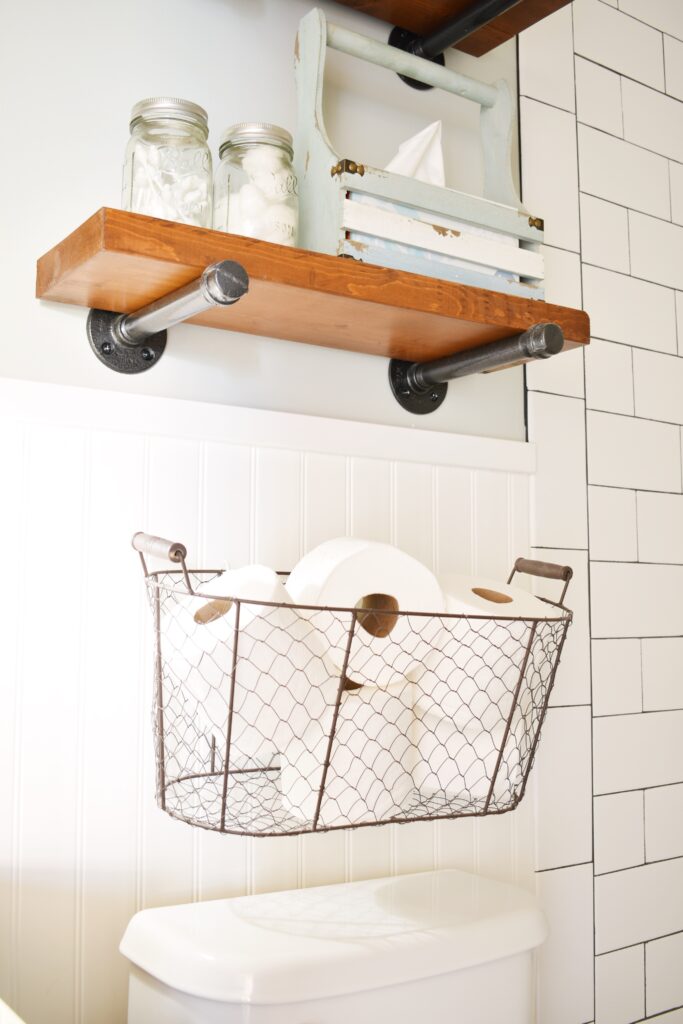 Outside the Box Storage – Speaking of extra bathroom supplies, I like to keep most of mine out in the open so they are super easy to grab when emergency strikes.  To corral everything I keep an eye out for storage options that don't necessarily scream "bathroom".  Each of my bathrooms has a basket stocked full of toilet paper and a pretty box of tissue.  In the guest bathroom I hung a slim basket directly on the wall behind the toilet, found a cute crate that perfectly held a box of tissues, and just for fun I used some extra mason jars for cotton balls and Q Tips.  And for all my female friends – make sure to make your life a little bit easier by keeping your "lady products" close by.  I keep this vintagy yellow tin I found at Homegoods well stocked so I never have to worry.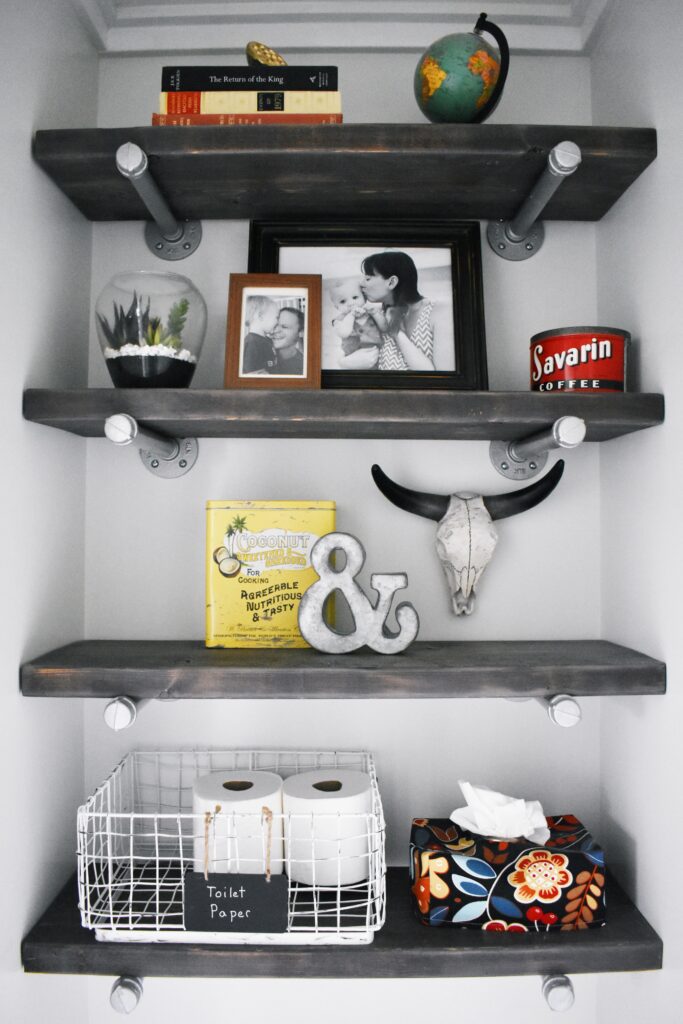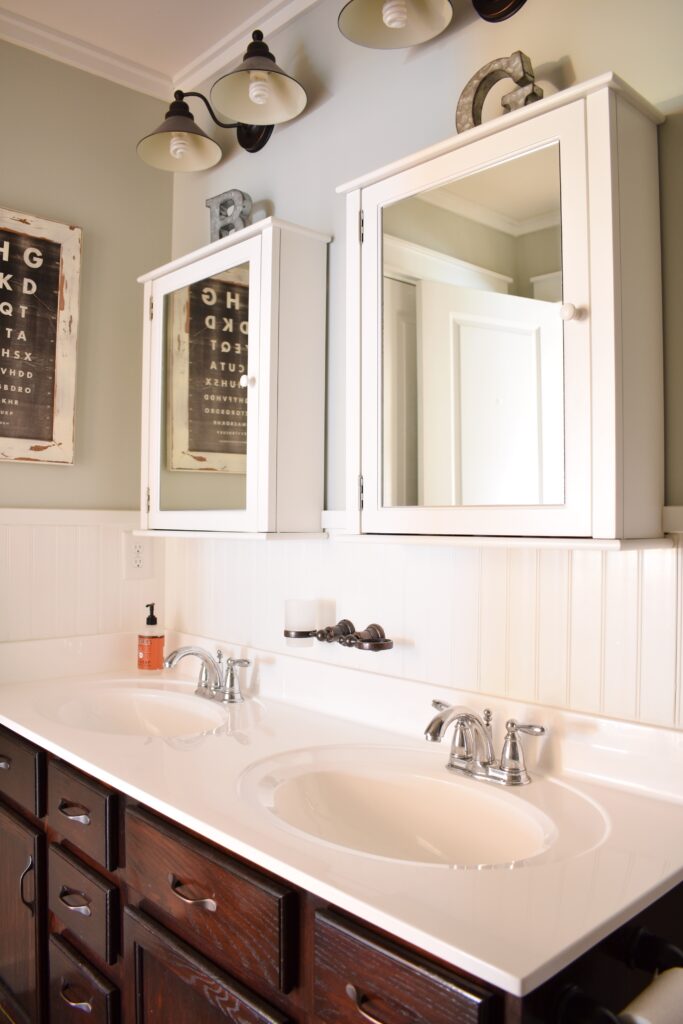 Inside the Box Storage – As much as I love open storage, I love CLEAN COUNTERTOPS even more!!  More specifically, I love not having to take a million things off of the countertops to clean them.   I added some storage solutions in each bathroom to help keep our daily bathroom products (things like our toothbrushes, contacts, soaps/lotions) accessible but out of site.  In our master, I added these pull out trays to the faux draw fronts for me and my husband and I found some great desk organizers in the Target dollar spot one day that just happen to fit my drawers, and my beauty products, perfectly.  In the boys bathroom, I replaced the large mirror with two medicine cabinets that they can take over when they turn into sweaty teenagers – oh and I even found some floating bathroom cup holders that I installed next to the sinks.  The powder room vanity even has a small drawer that holds extra toothbrushes and toothpaste to make our morning routine much simpler.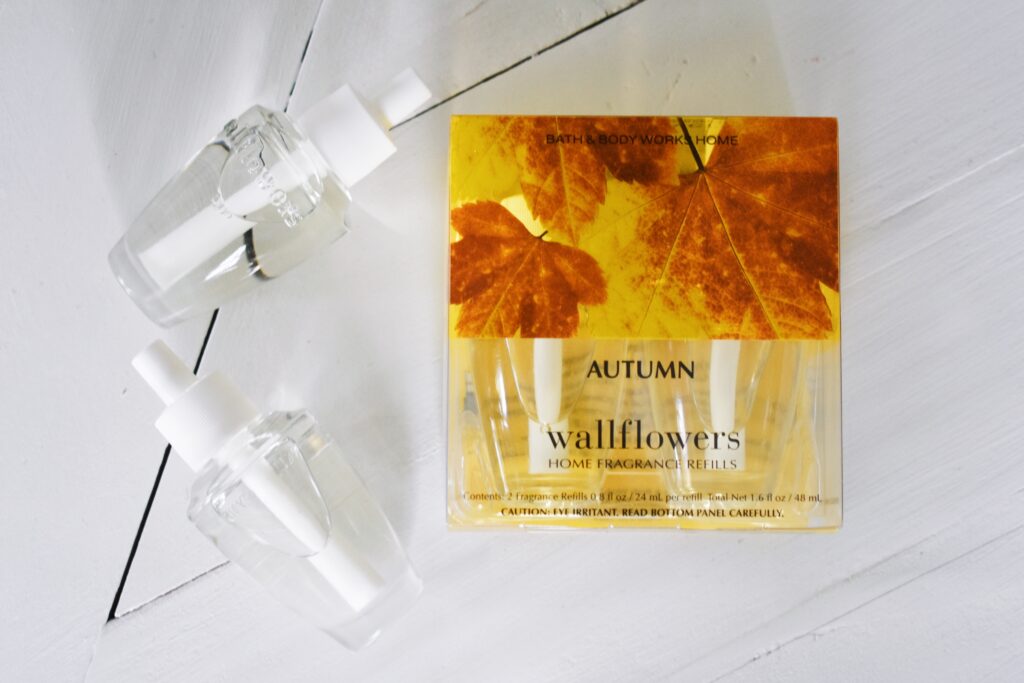 Bath and Body Works Wallflowers – I love me some beautiful candles, but with a house full of boys I need something in the bathrooms that works 24/7 and my go to are the Wallflowers Plug Ins from Bath and Body Works.  I just picked up some new faux marble and copper receptacles, but I stick to the same handful of scents through the year.  My favorites are – Winter  |  Autumn  |  Beautiful Day  |  Fresh Bamboo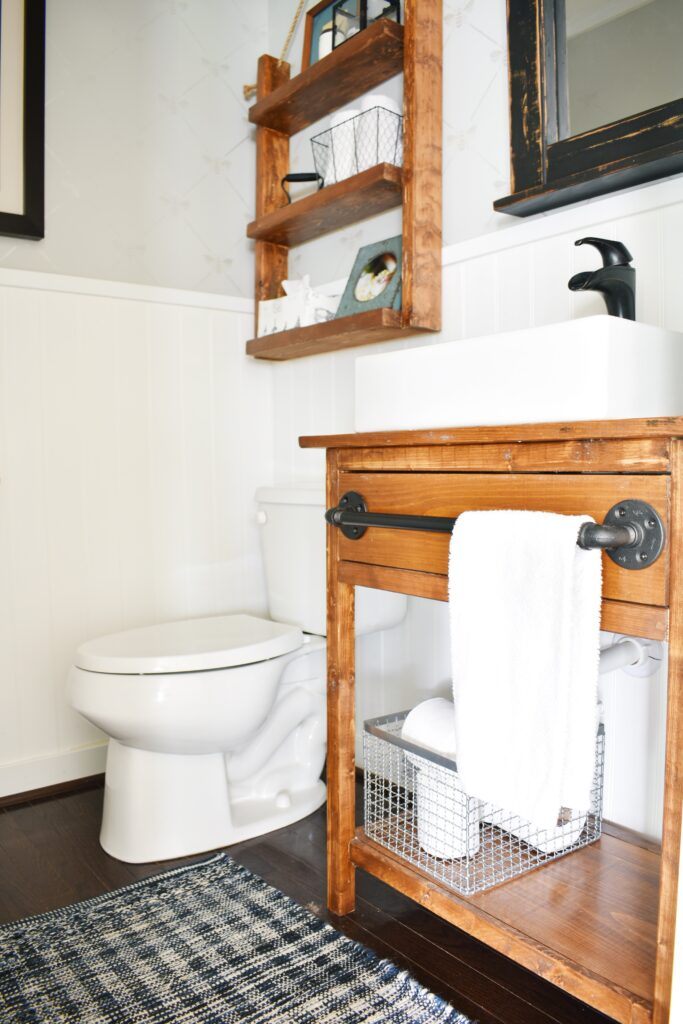 Covered Trash Cans – Again, maybe it's just me, but I also have issues with bathroom trash cans.  I know there are many really cute ones out there, but for me I need them to have a lid.  We have IKEA versions in all of our bathrooms, but Amazon also has some simple, inexpensive options you can check out.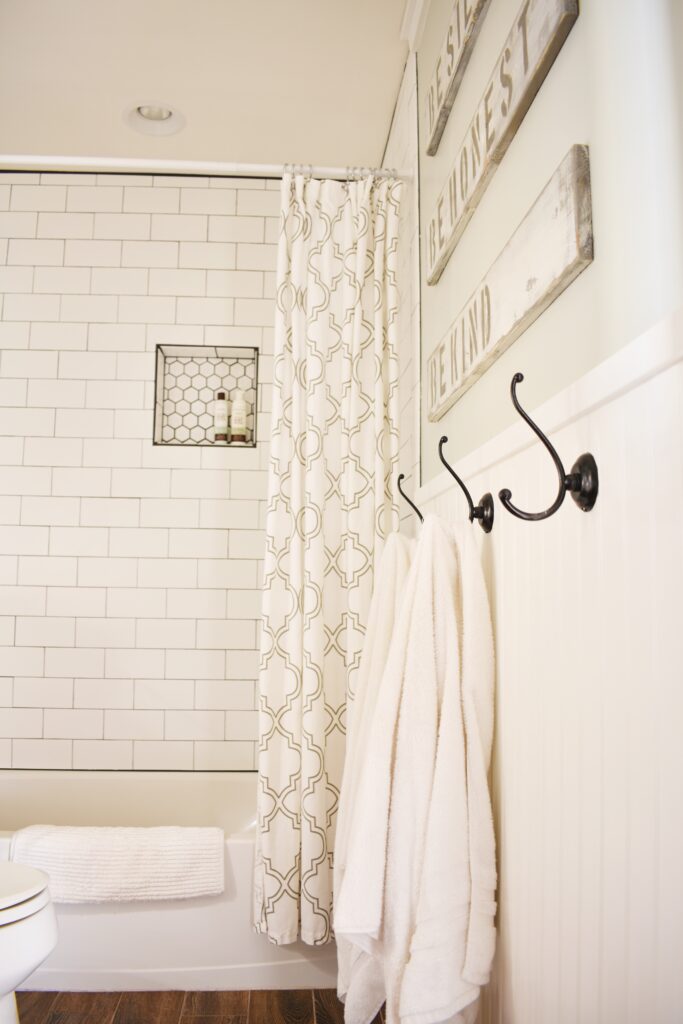 Down with Towel Bars! – As funny as it sounds, this issue can cause some controversy in the design community!  I never would have thought it, but Emily Henderson wrote a whole blog post on this topic and, I kid you not, got serious clap back from people saying that towels don't dry correctly if you hang them on hooks.  Regardless if that's true or not, I'm firmly with Emily and one of the first things I did in the house was rip out all of the towel bars and replace them with hooks.  Personally, I'm fine with the way the towels dry and I'd take the ease with which we can all hang them up over having to occasionally throw them in the dryer.  Plus, the towel bar in our master bathroom used to be on the wall over the bathtub!!!  That towel could be dry as a bone but was still ridiculously hard to reach.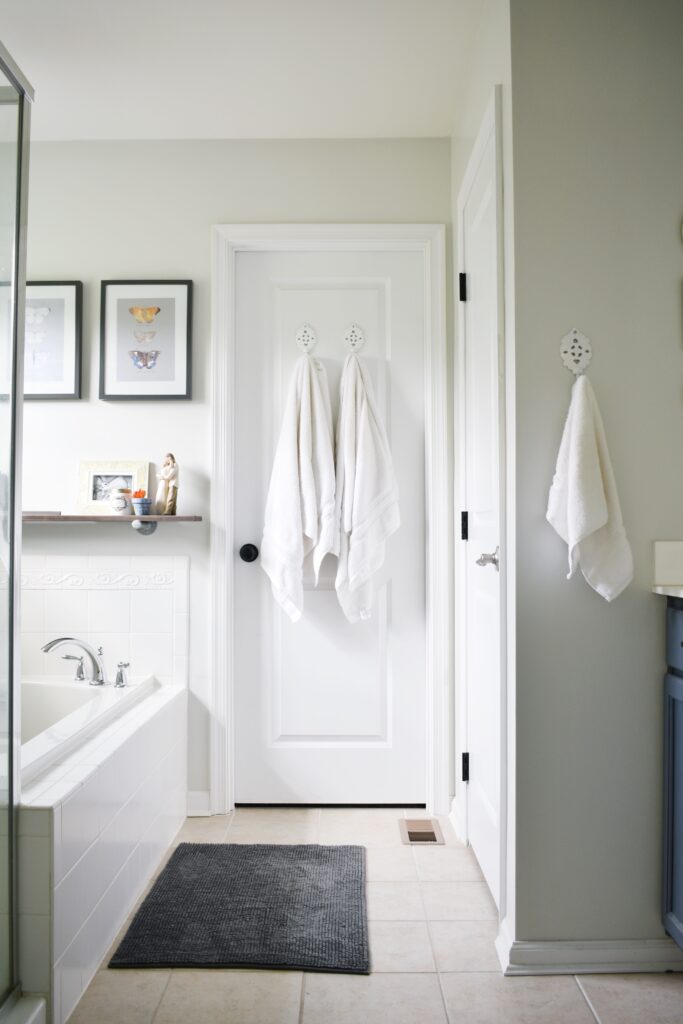 All White Towels – Have I mentioned recently that I live in a house of all boys???  And that they're usually covered with some form of dirty or sticky substance??  Which is why a few years ago I banned all non-white hand and bath towels from our house.  This way on laundry day I can scoop them all up, throw them in the wash with some bleach, and never look back.  Unfortunately West Elm doesn't sell my favorite brand of towels anymore (whomp whomp) but I like thinner, quick drying towels and I'm always on the lookout for some great Turkish ones.  If I find any I'll come back and let you guys know!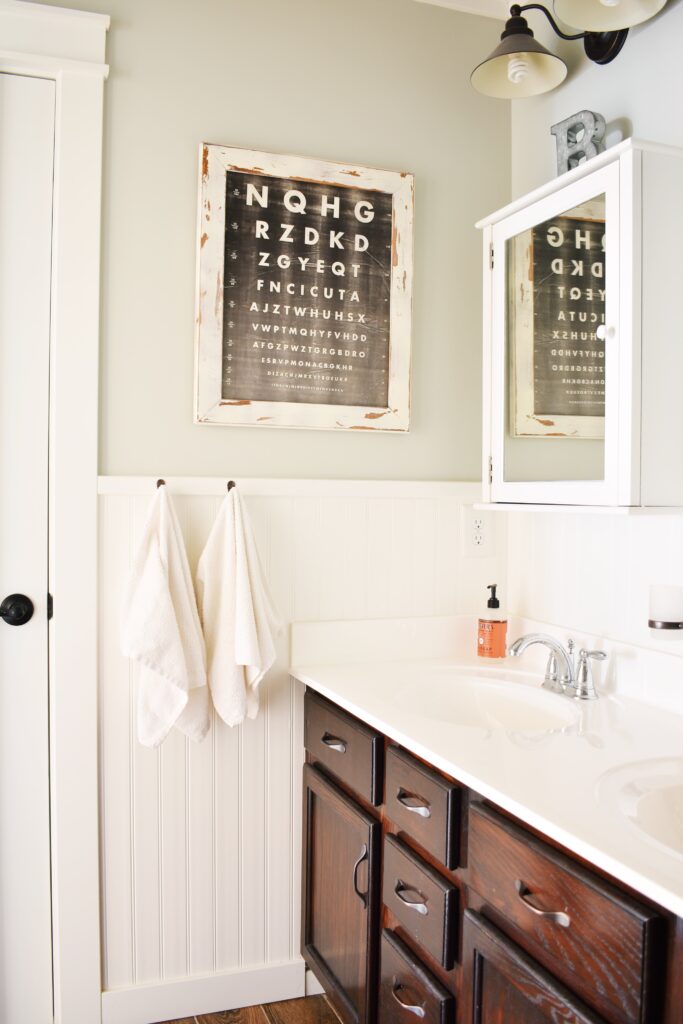 If you've been following this blog for a while you know that even though I've completely remodeled the guest bathroom and powder room – I really haven't touched my master bathroom very much.  But just because the design isn't yet where I want it to be, that hasn't stopped me from implementing the same ideas to improve the function – and that's the advice I'd like to leave you all with today.  Don't wait to improve the functionality of your spaces – bathroom remodels are hard, long, and expensive but you can very easily improve the quality of your bathroom experience without tearing up any tile!