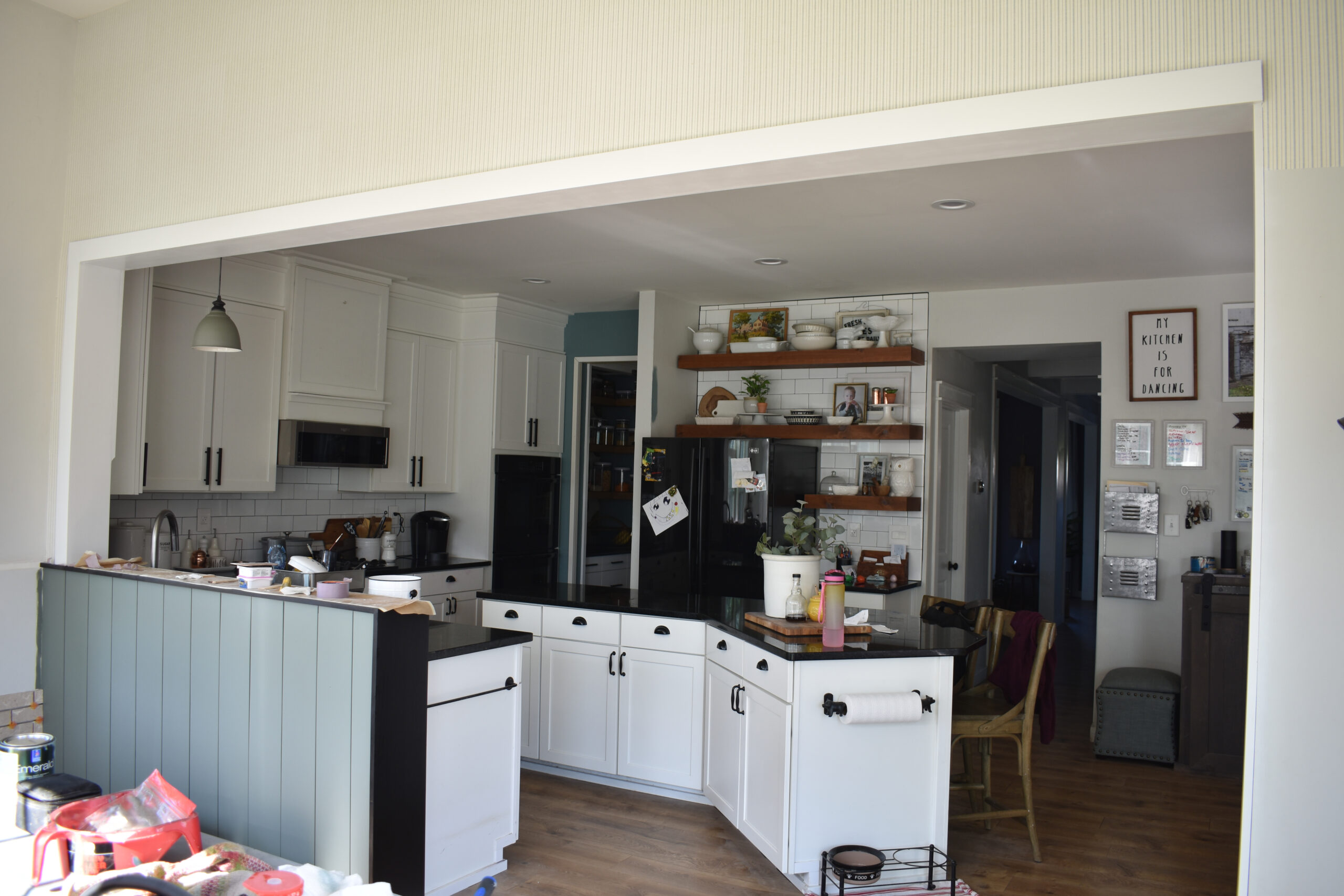 Usually I'm really quick off the ORC starting block but this time around I'm definitely dragging a little. A bad sinus infection has been knocking me down every other day but progress is happening….just a little slower than usual. My plan of attack for the morning room is take it one wall at a time and make my way around the space to the patio side. So first up — the long wall that separates the morning room from the kitchen.
Week 1 / Week 2 / Week 3 / Week 4 / Week 5 / Week 6 / Week 7 / Week 8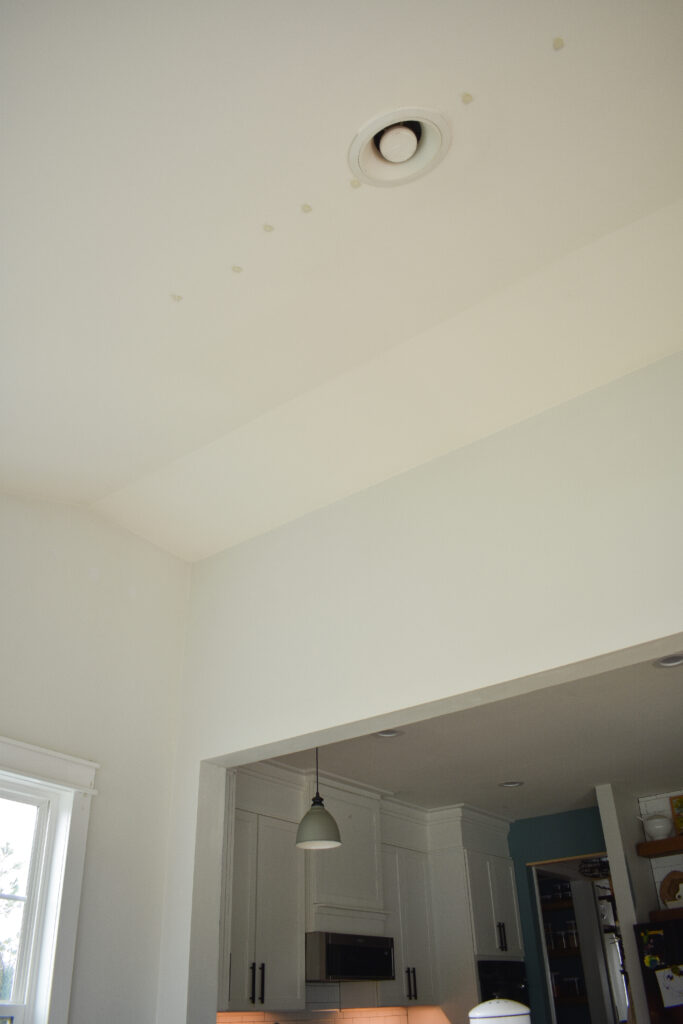 Before I did anything else I had to deal with the breakfast bar/pony wall next to the windows. While it's been nice to have, no one ever sits here and the large countertop not only eats into the kitchen table space, it also makes it impossible to add curtains around the window. So I'm making an adjustment to solve both of these problems.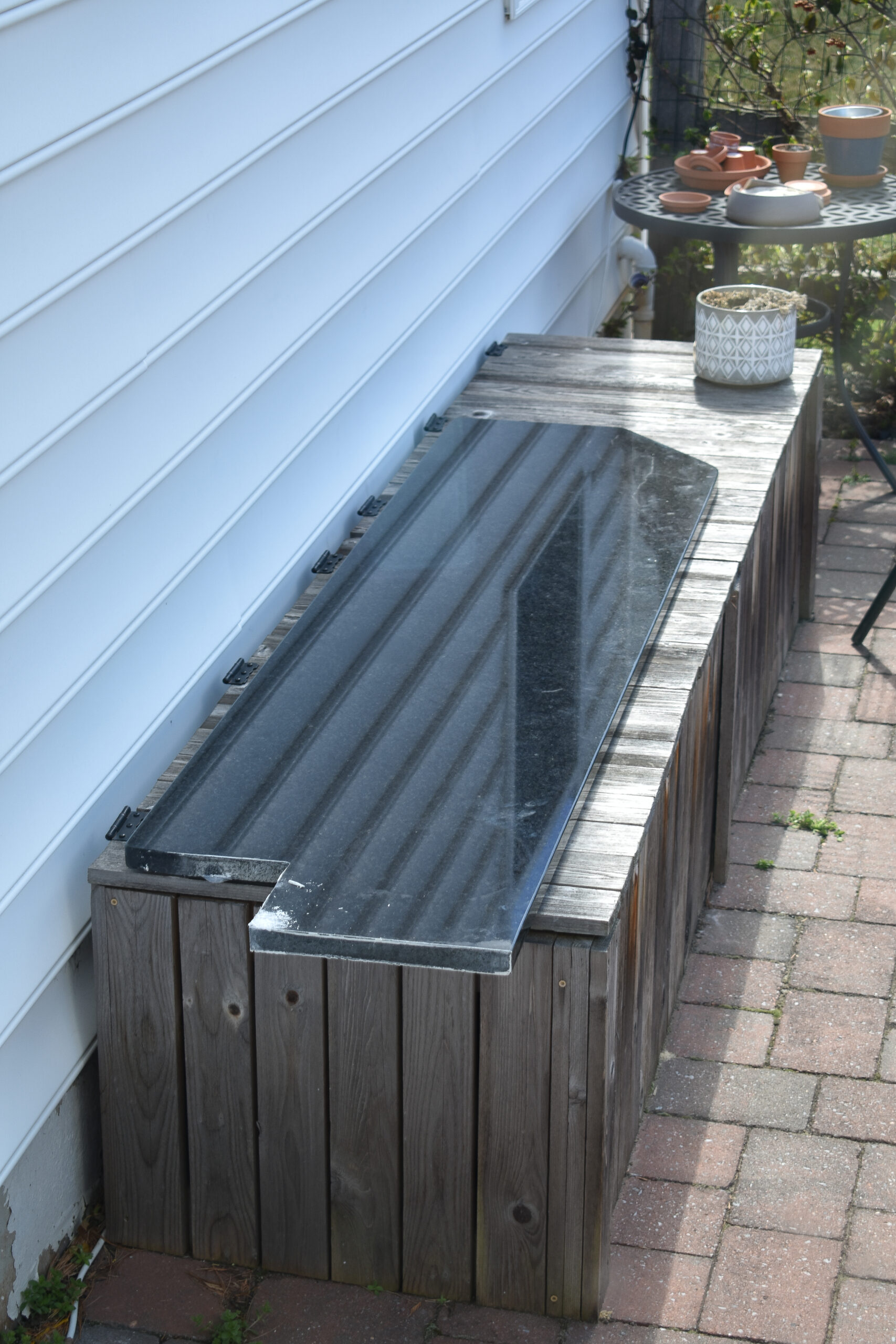 Since my husband likes to use this spot to stand and work on his laptop I didn't want to completely get rid of the wall and decided to just make a much thinner countertop. The granite came off easy enough with a few swings of the sledgehammer (still TBD on what I'm going to do with it but for now it's chilling on the patio) but I was unpleasantly surprised to see that the wall and the granite backsplash were incredibly uneven so I first had to even that out with some scrap MDF.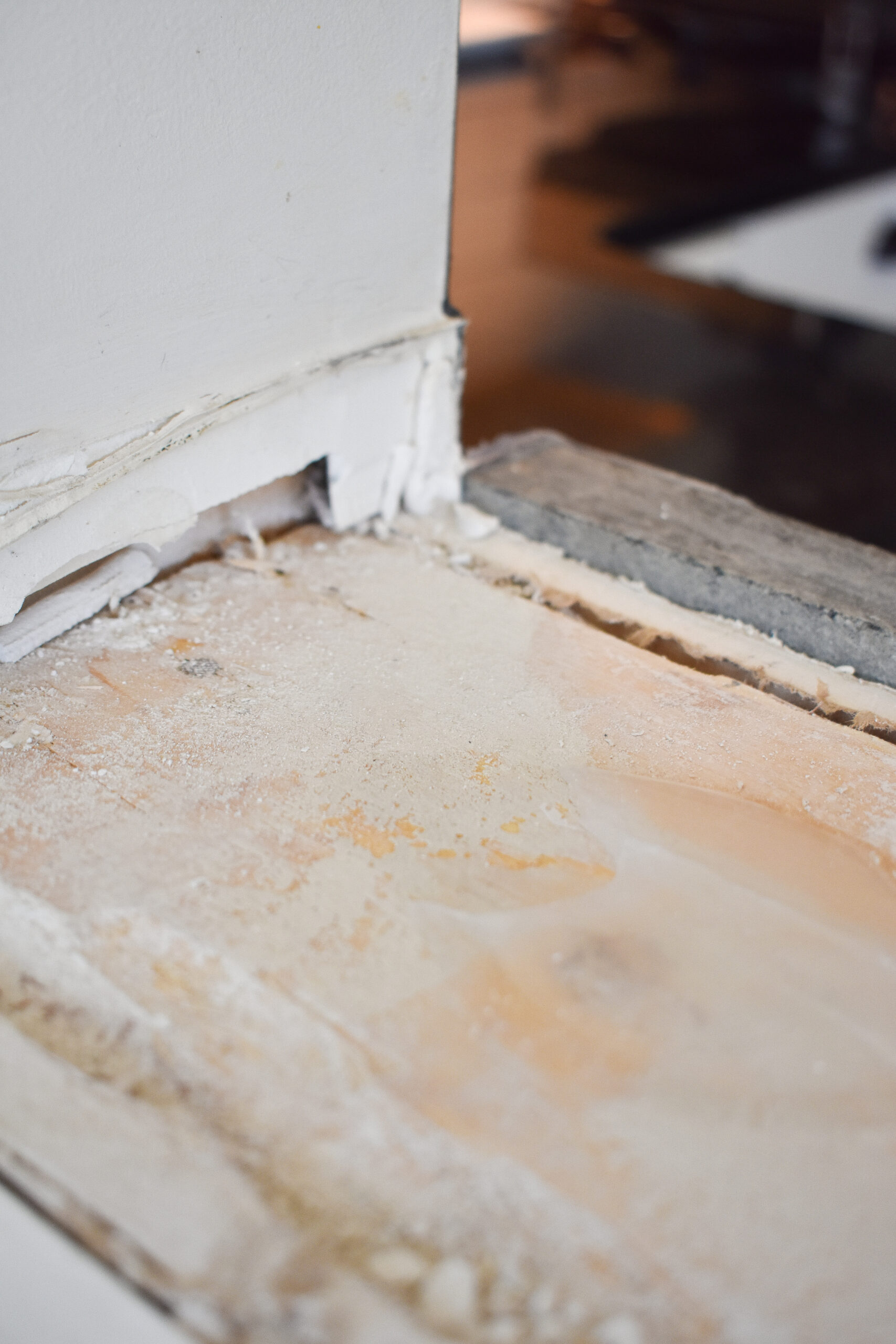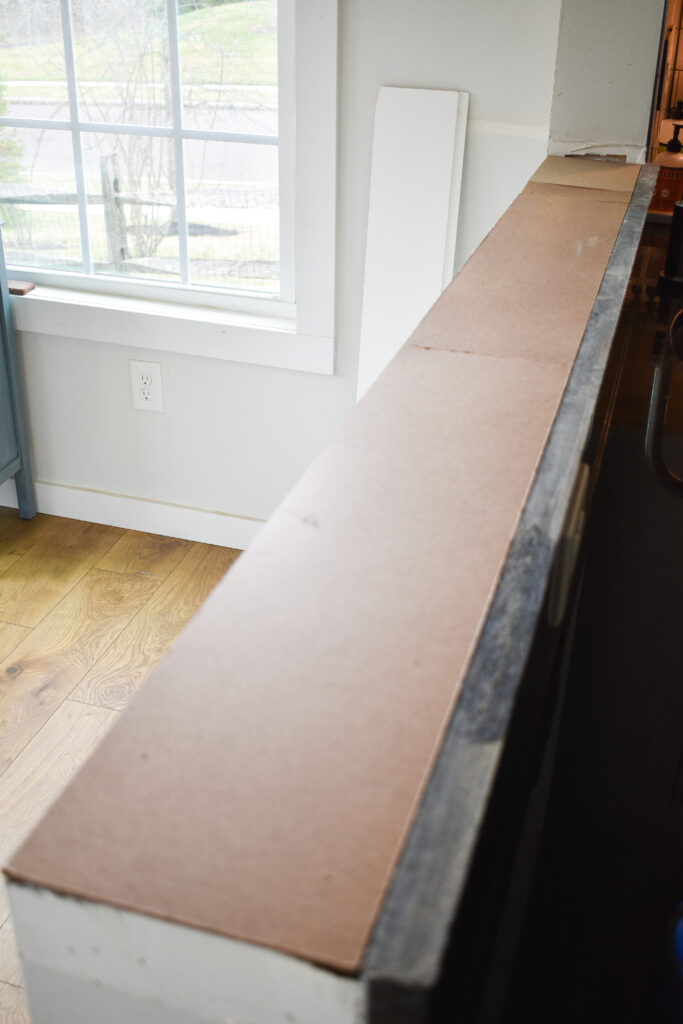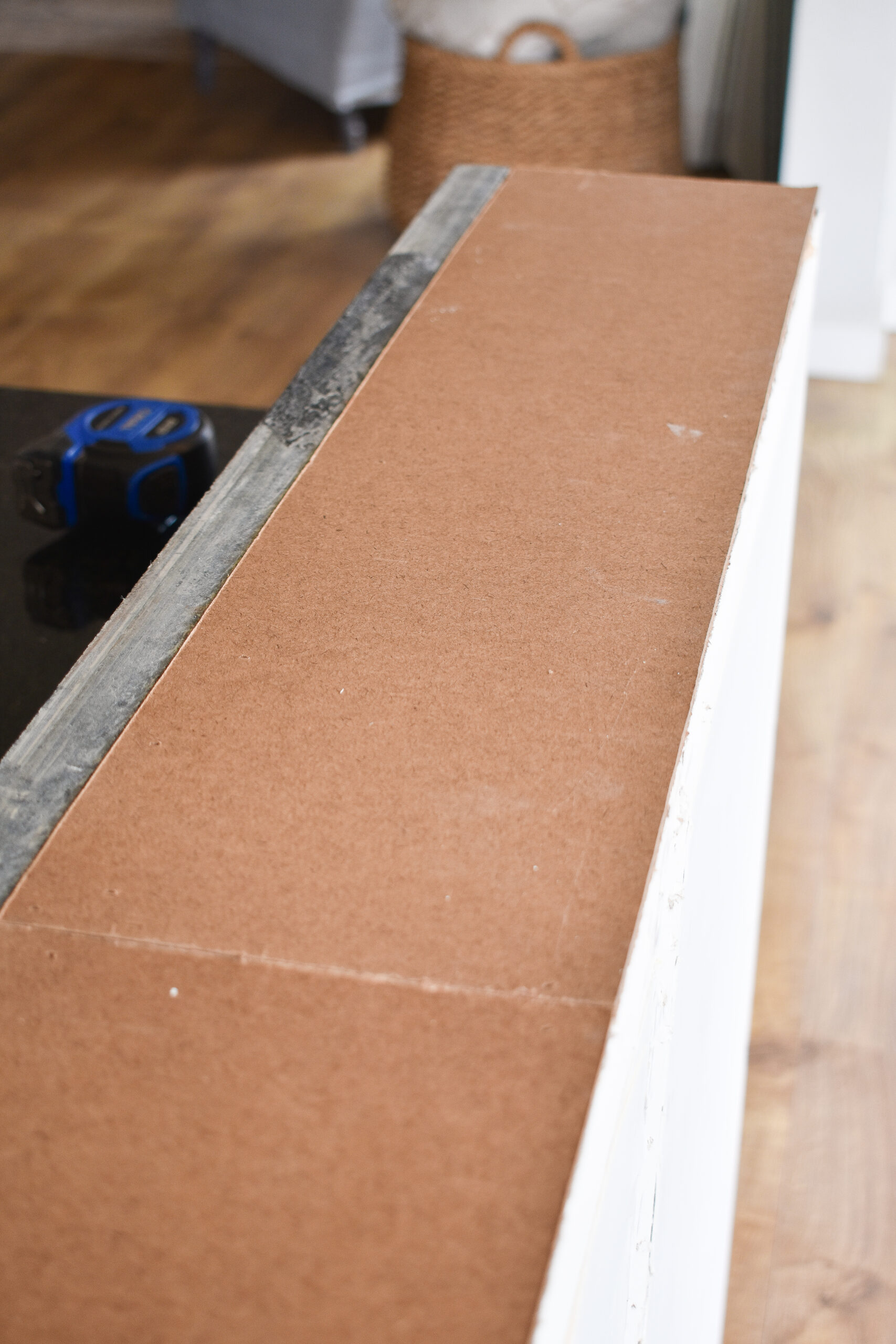 While it crossed my mind to splurge on a really nice piece of pretty stone, the reality is that one day I'd eventually like to replace all of my kitchen counters and it makes much more sense to save my money and do that all at once. So I borrowed the trick I used to make the temporary countertop for my newly built pantry and just make the new surface out of wood stained with a super black glossy stain. To give it a more modern feeling I created a water-fall edge and am really loving how it turned out.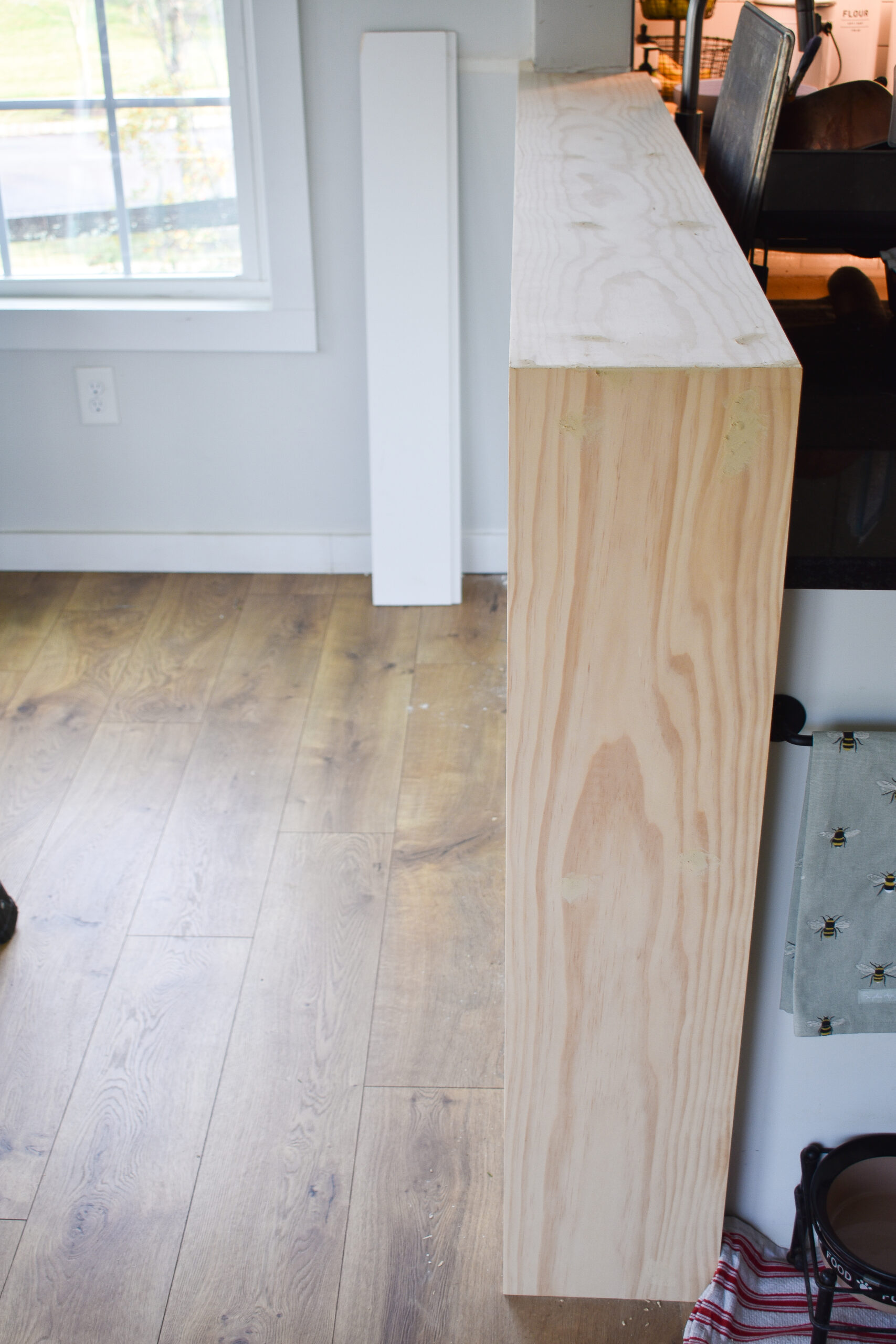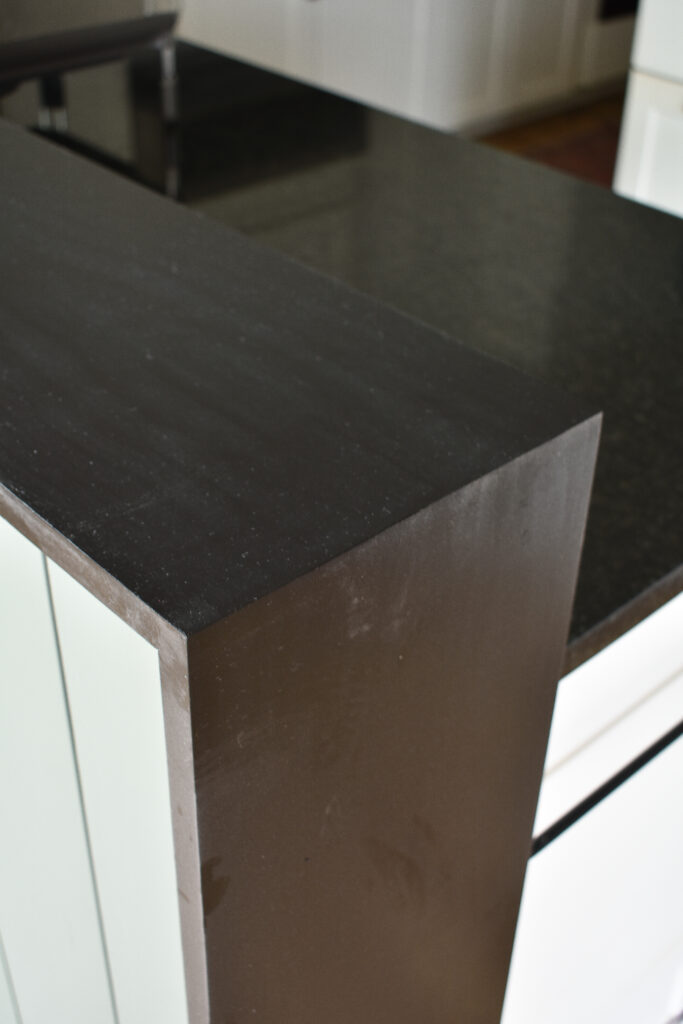 To finish it off I used some leftover shiplap and some leftover paint (Retreat from Sherwin Williams) to give a nod to the accent wall and the green tones from the family room.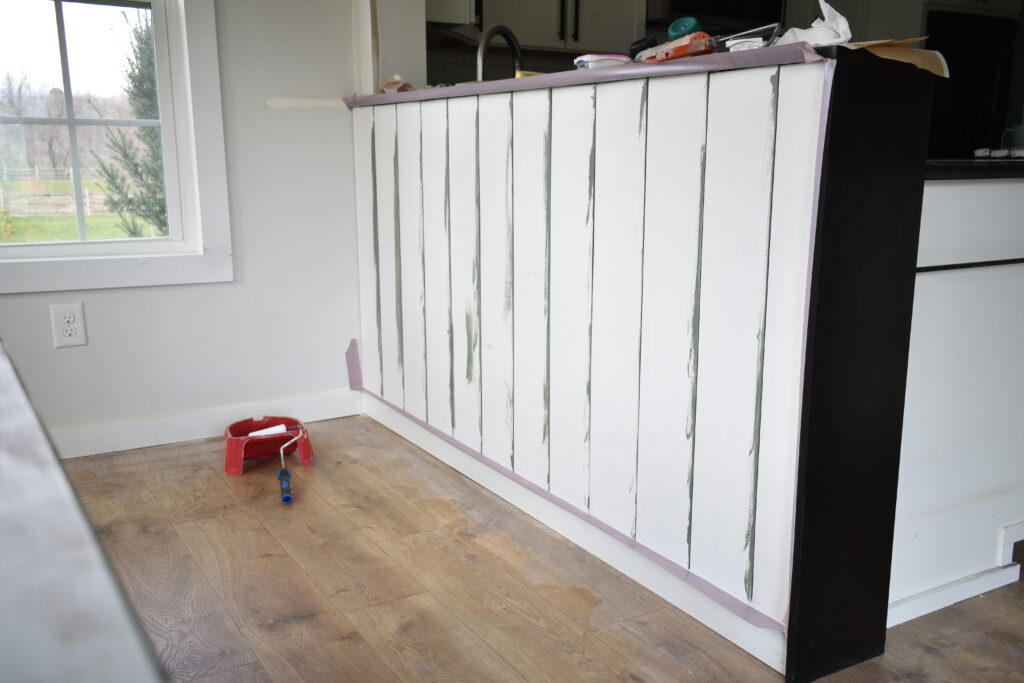 I had originally planned on using shiplap to cover the upper part of the wall as well BUT I got the opportunity to work with Calico Corners this time around not only to add the drapery that you'll eventually see on these windows but since they also have an excellent selection of wallpaper from designer collections such as Candace Olsen for York, Vern Yip, and Jaclyn Smith, I decided to add another fun layer to this room.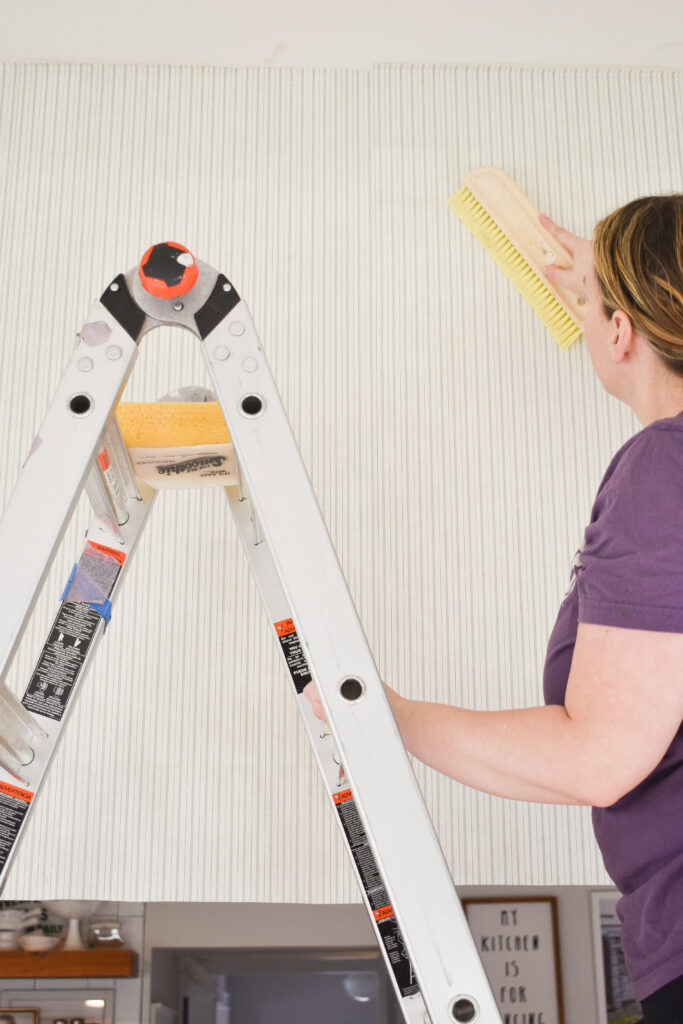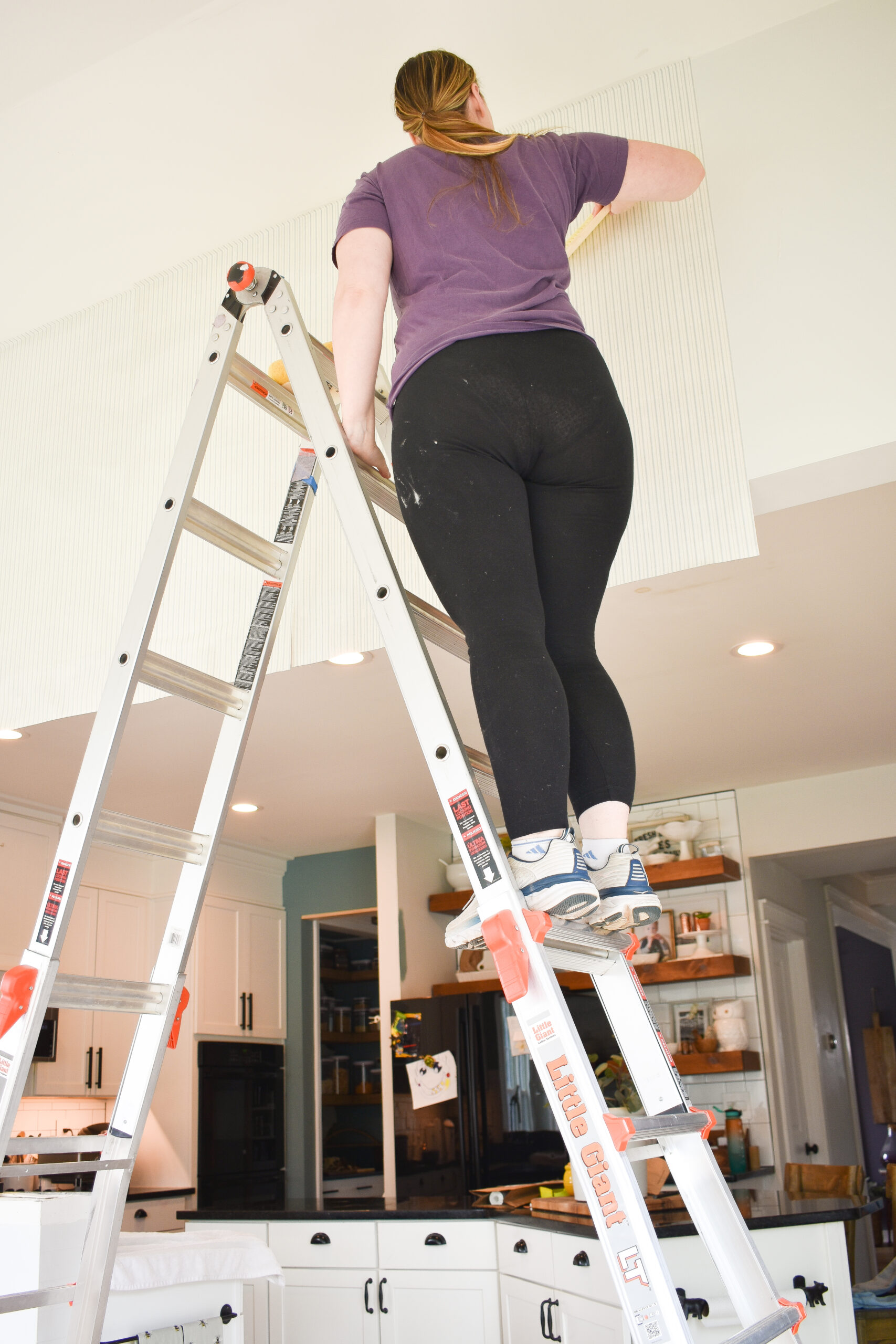 I wanted something subtler than I usually gravitate towards since there's going to be a lot of other elements in this space, so I went with a classic ticking stripe pattern from Magnolia Home in a really light blue. I was able to get it all up in one afternoon because I didn't have to worry about matching up the pattern so it was as simple as getting into a rhythm and moving my way across the wall.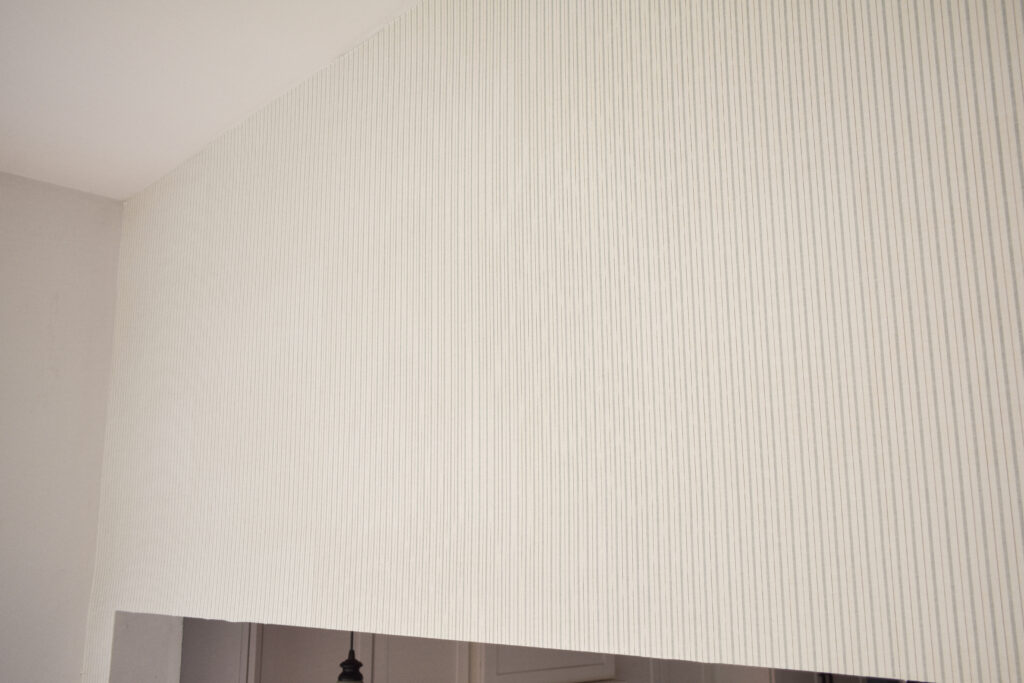 So there you go — one wall down, two to go….plus the ceiling. Crossing my fingers that my sinuses will be back in working order soon and I can shift into full speed!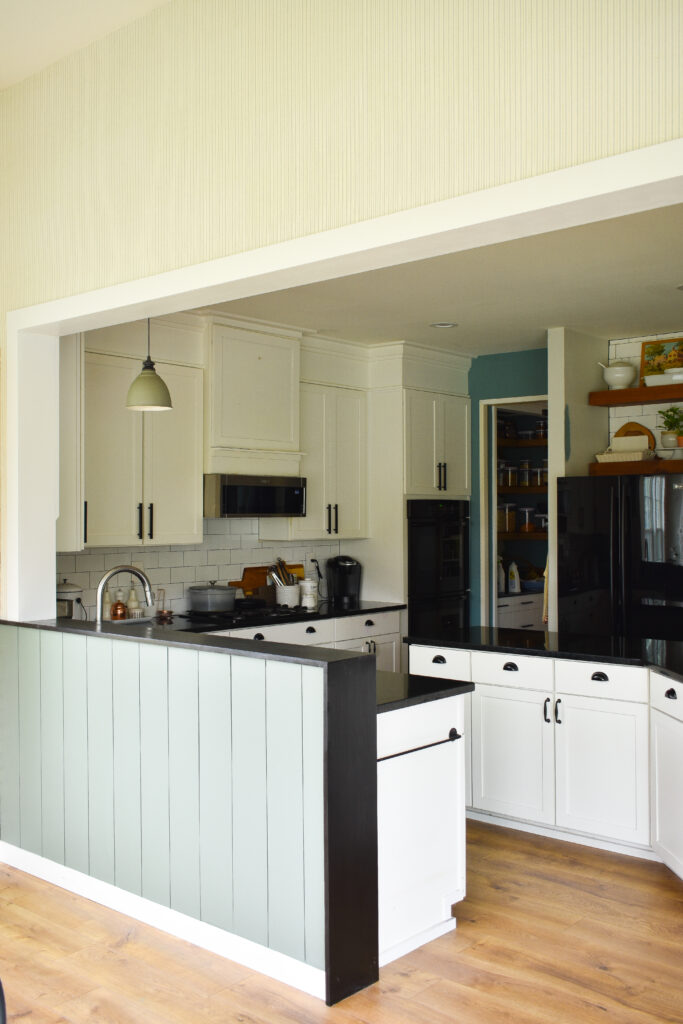 Thank you again to my sponsors Calico Corners for providing me with this fantastic wallpaper to use in my space, and Minted for providing a collection of their fabulous artwork that I cannot wait to arrive!

And don't forget to check out what all the other featured and guest participants are up to each week on the One Room Challenge blog!