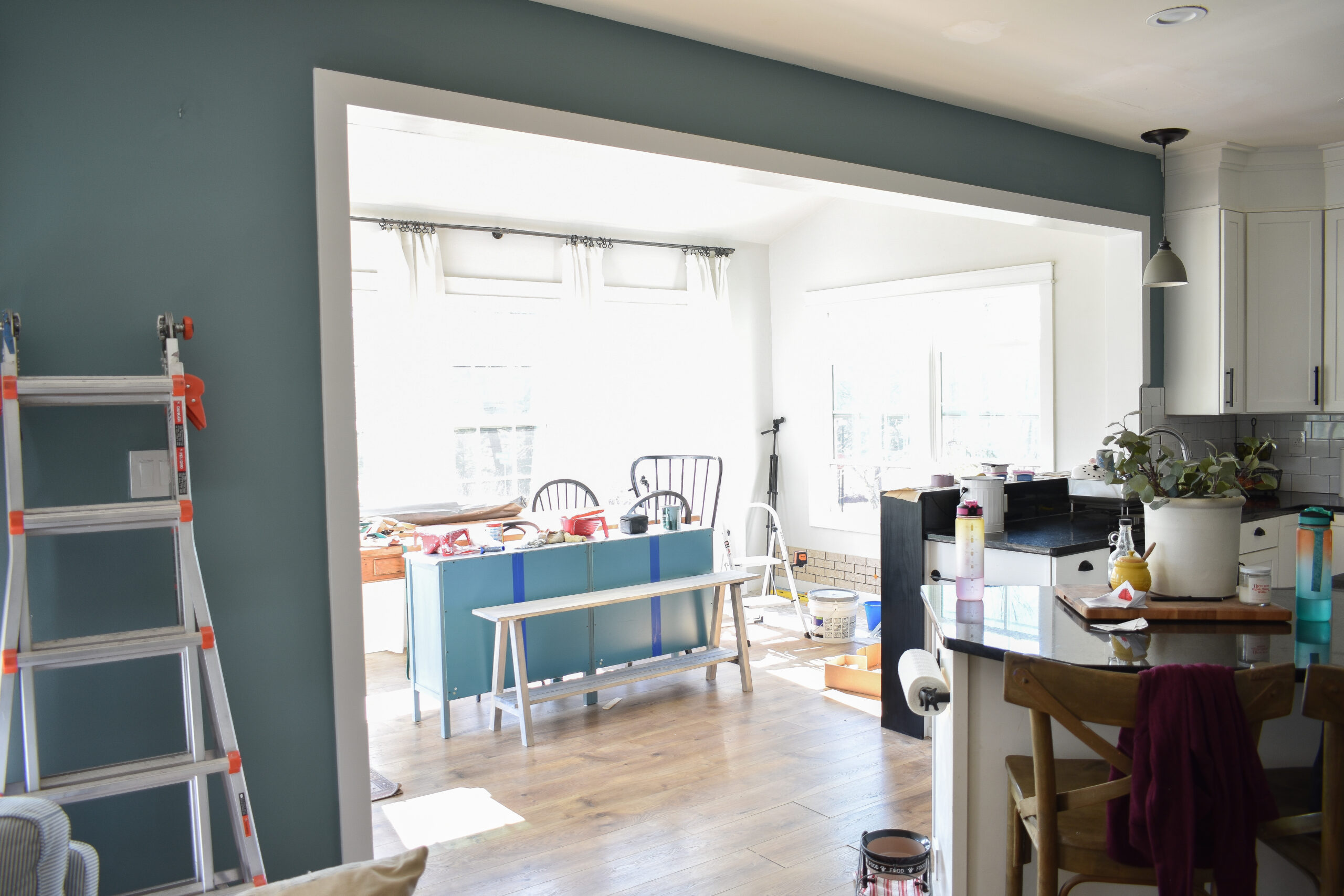 This is gonna be a quick halfway point check in because I've got work to do!
Week 1 / Week 2 / Week 3 / Week 4 / Week 5 / Week 6 / Week 7 / Week 8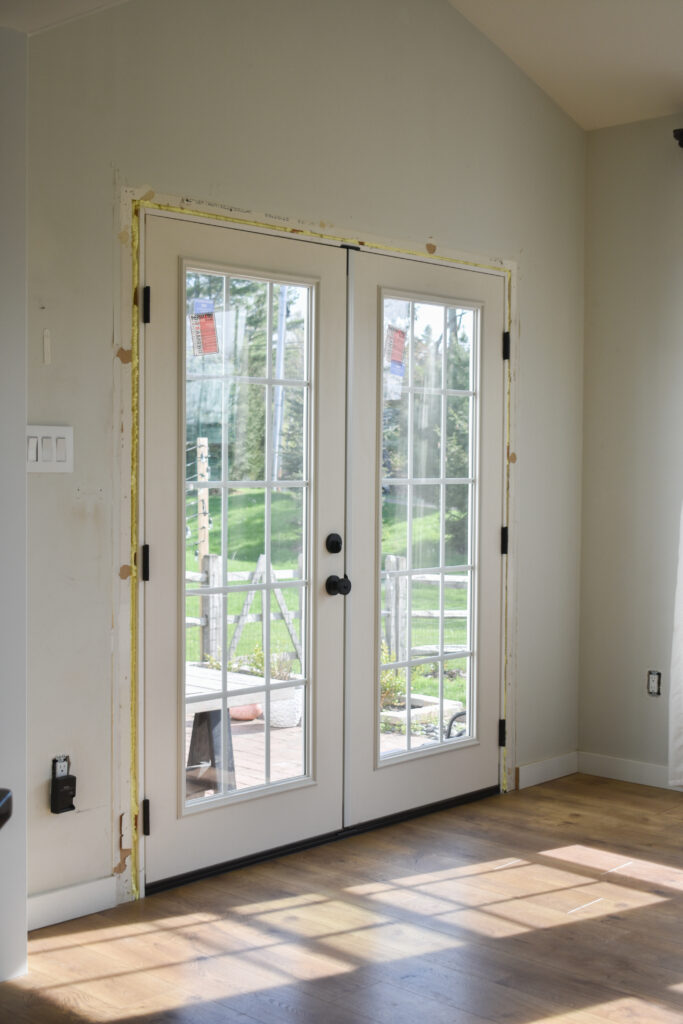 Remember when I said I wasn't gonna stress out about the two parts of this project I can't control?….well I can stop stressing about one of them because the french doors have been installed and they are exactly what I've wanted since we moved in. Since I was worried about the timeline and we were looking for pretty standard options, I decided to try Lowe's and they were able to measure, deliver, and install within 30 days which worked out perfectly. When we built our house we only had the option of adding a sliding door, and it worked fine for when the boys were little, but I always dreamed of being able to swing a double set of french doors open and letting the breeze blow in. Most importantly, I can now start on the built in bookcases that will surround these doors and are going to take me a considerable amount of time to finish.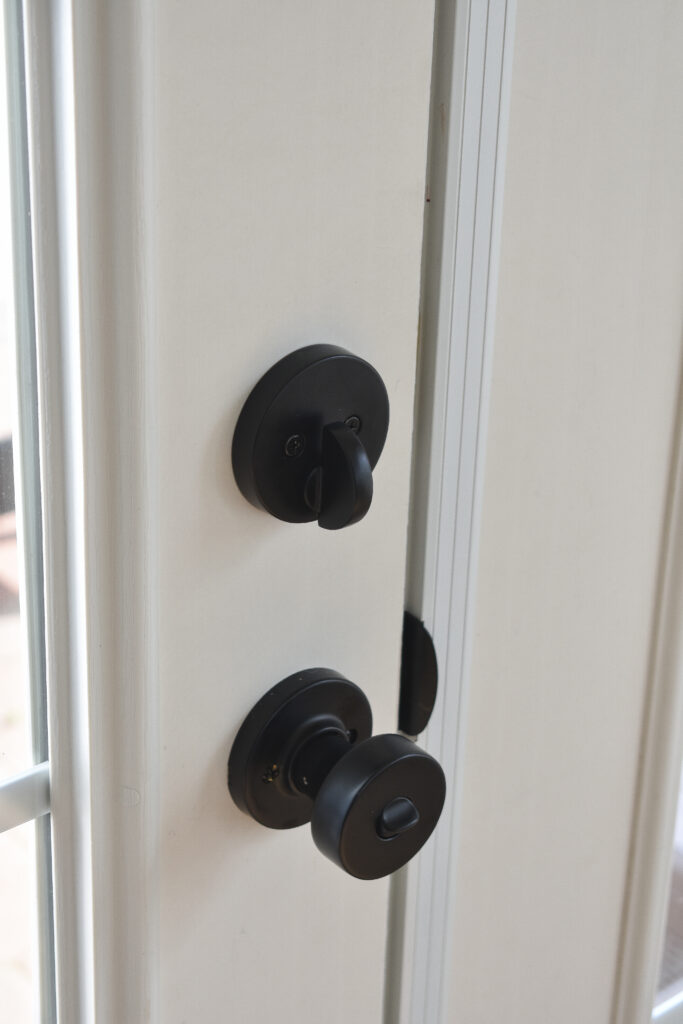 In the meantime – let's talk about one of my best suggestions for anyone looking to add character to a builder-grade home….adding trim, specifically to your windows and doorways. I cannot overstate how much a difference it makes in a home — it's like putting mascara on your eyelashes…a small addition but it changes the look of your whole face.
The windows in this room were some of the first that I trimmed in my house — and they kind of showed it — so I started off by giving them a little love in the form of filler, caulk, and paint so they didn't look out of place with the rest of the shiny new trim.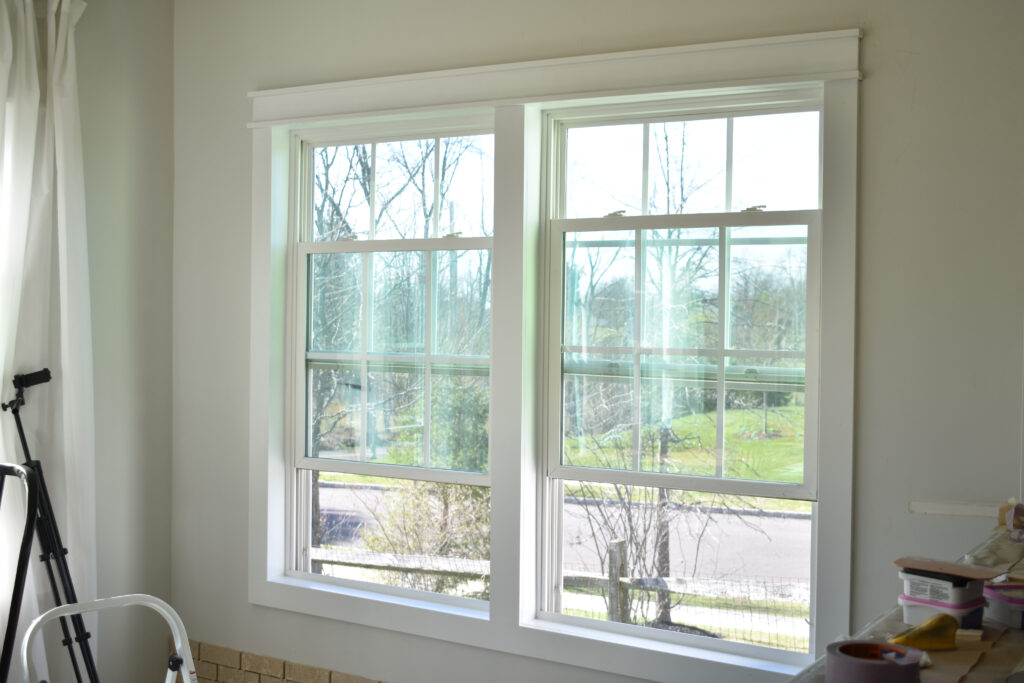 When that was done I moved onto the last opening in my home that still lacked trim – and I saved the biggest for last. After staring at this giant naked opening or 8 years it's finally done. And it reinforced that painting this wall blue earlier this year was a great call because I love how the white trim stands out against it.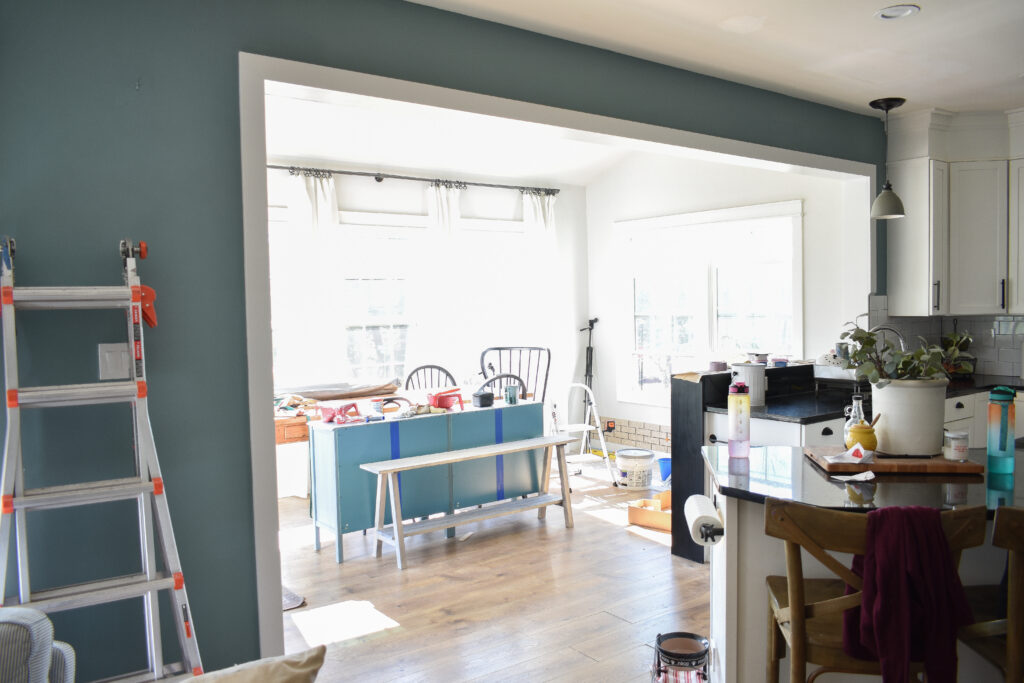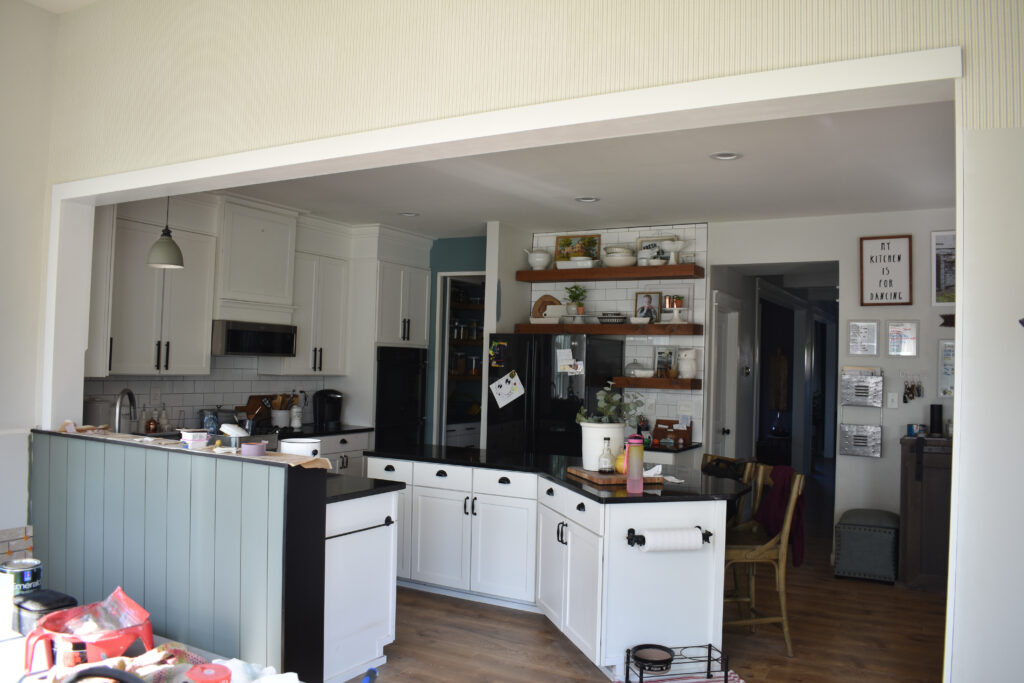 Oh — and I built a bench in an afternoon….but I forgot to get any photos of it except for these two. I used one of my favorites stains that I had sitting around – Oaked from Weatherwash – to give it a worn look, and then decided it was a little too gray so I whitewashed with my leftover trim paint. This will go under the window and become the new home for my small but mighty plant family.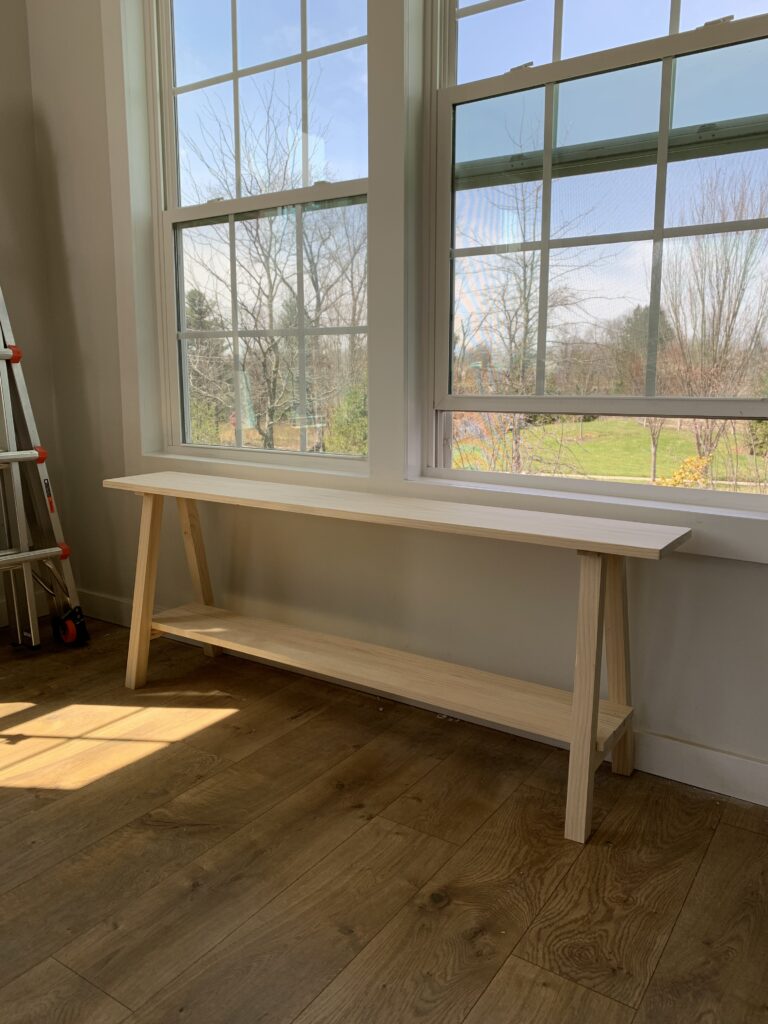 So while I've been busy thus far, it's all been appetizers to the main dish of this design because up next we've got nothing but big projects left on the list so it's a long line to the finish line still.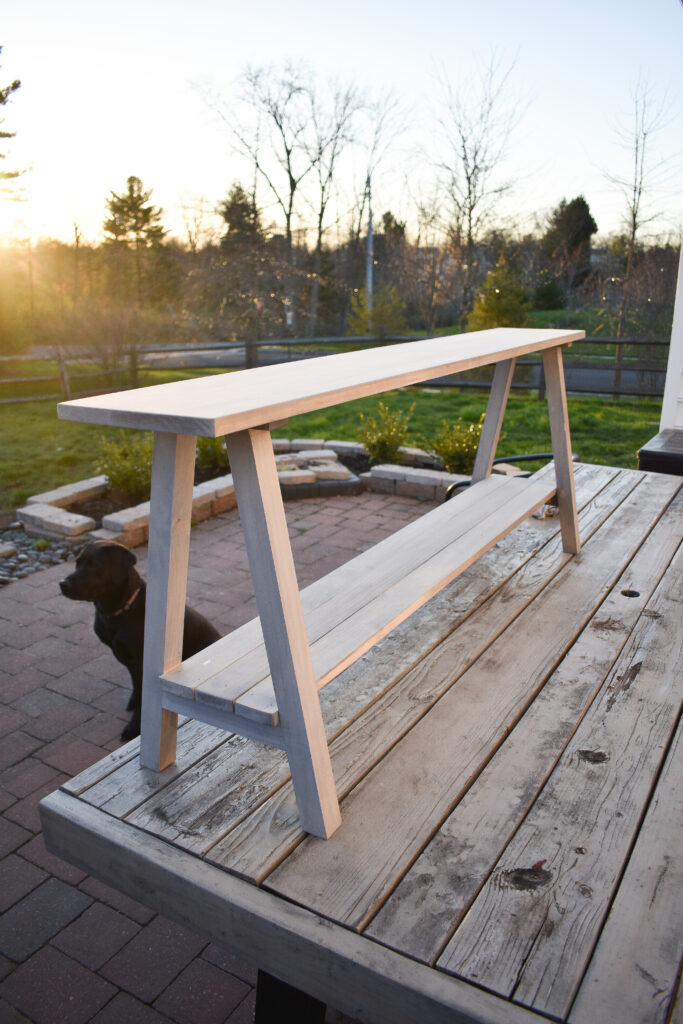 Thank you again to my sponsors Calico Corners for providing me with this fantastic wallpaper to use in my space, and Minted for providing a collection of their fabulous artwork that I cannot wait to arrive!

And don't forget to check out what all the other featured and guest participants are up to each week on the One Room Challenge blog!