It's officially one week to Christmas and to celebrate I'm sharing with you my final blog of the season (and the year!) and taking you on an extended tour of Holiday Hilltown House.  I already shared the small touches I made to the boys bedroom and the guest room in my last few posts but today I want to share the common areas of our home that got the full Deck the Halls treatment.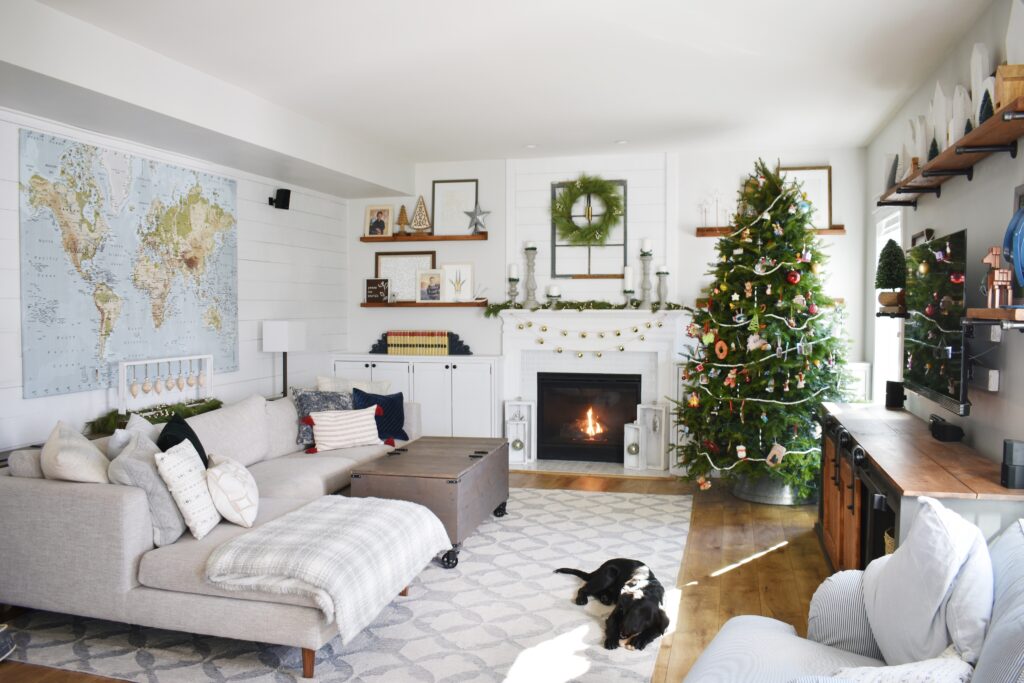 I fully intended to not worry about the living room since I decorated it last year, but I found that just by making a few small changes I became so much happier with the space.  We always do a colorful tree full of our families ornaments, so last year I thought I needed to add lots of other color to compliment it but I learned that just the opposite is true and keeping the other decor very neutral with just a few pops of red and green made the whole room feel lighter.
The biggest change came from re-thinking the styling of my art ledges – my original plan was to display all of the boys Santa photos on them but it got to be way too cluttered so instead I sprinkled in a few simple decorations and used a big piece of leftover wallpaper for a much calmer look.  Bonus – the Santa pictures found a new home in the kitchen which was super lacking in decorations.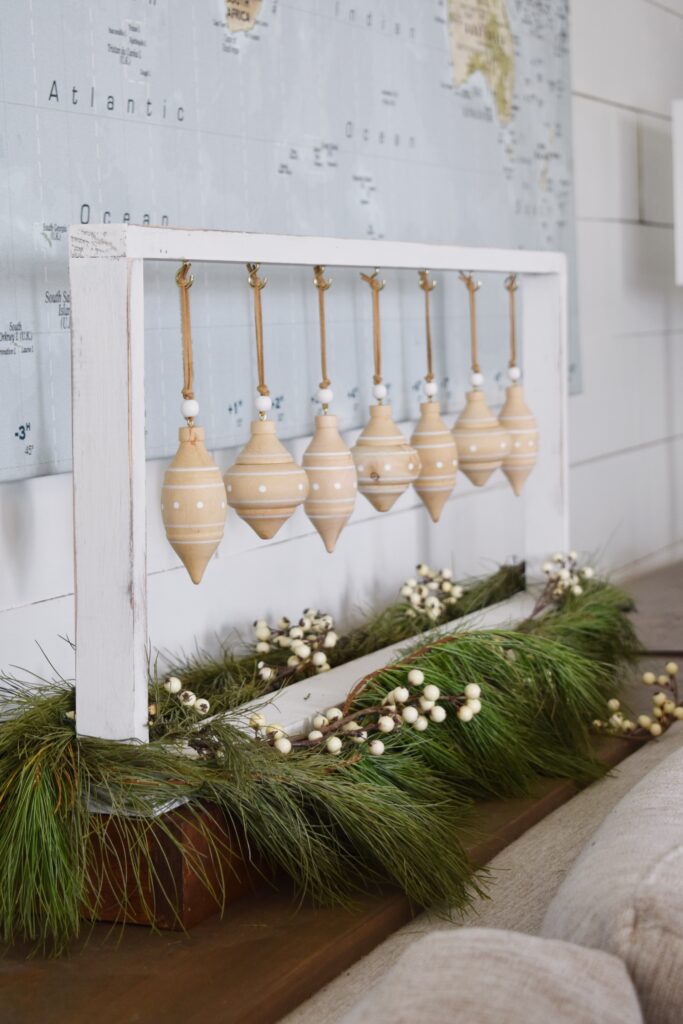 I was worried that the DIY projects I made last Christmas wouldn't hold up with this new, simpler vision I had….but I made them work by bringing in some neutral elements.  The ornament holder behind the couch and my scrap wood village in particular came to life with just a touch of natural wood.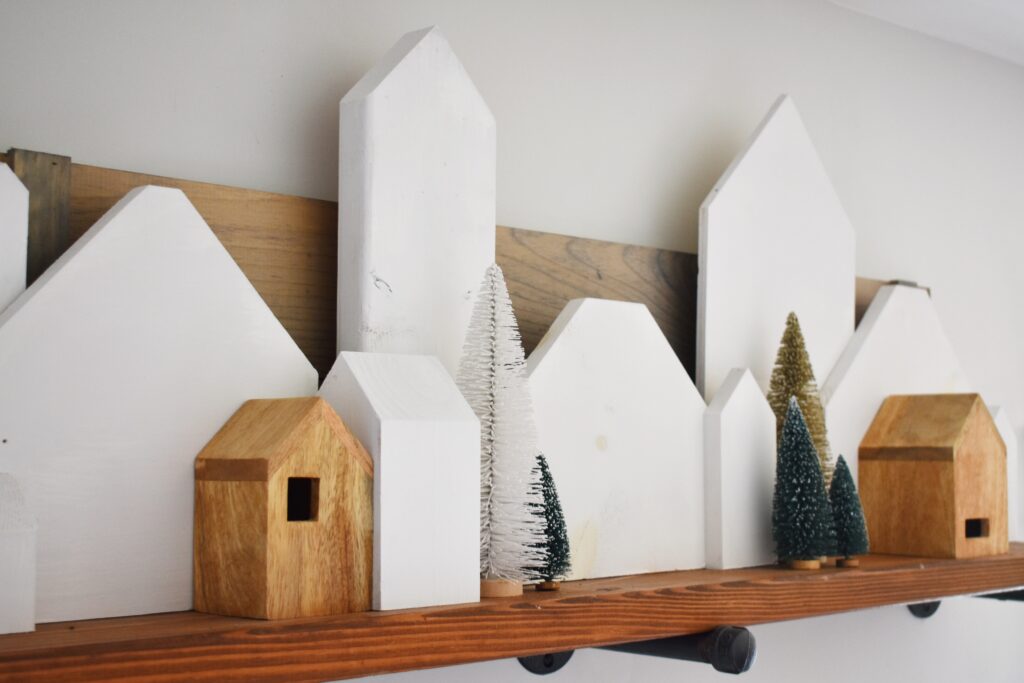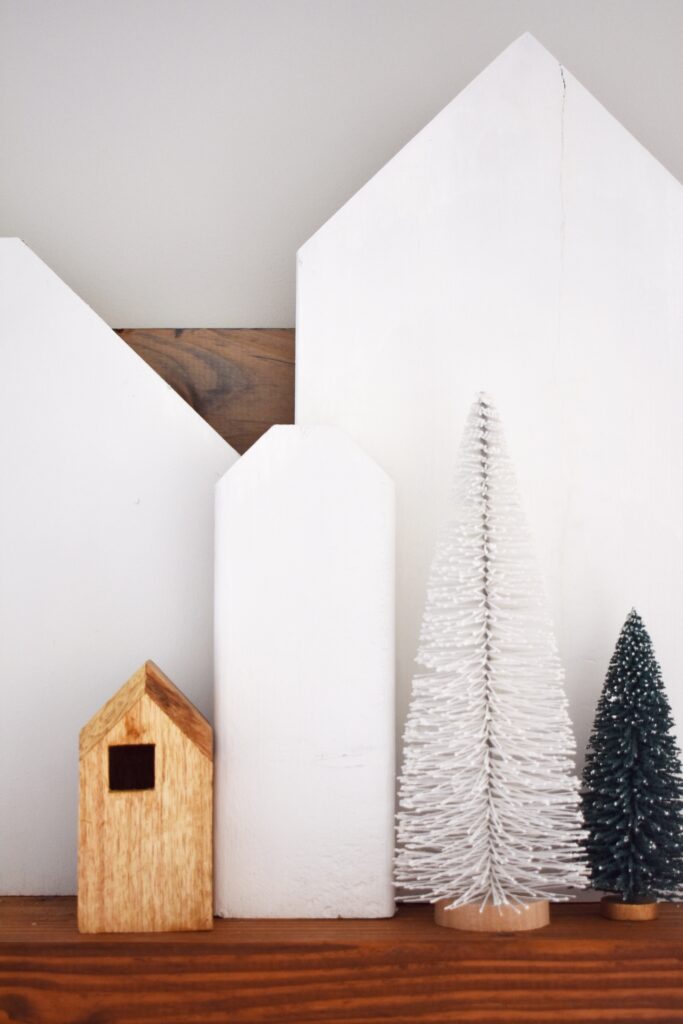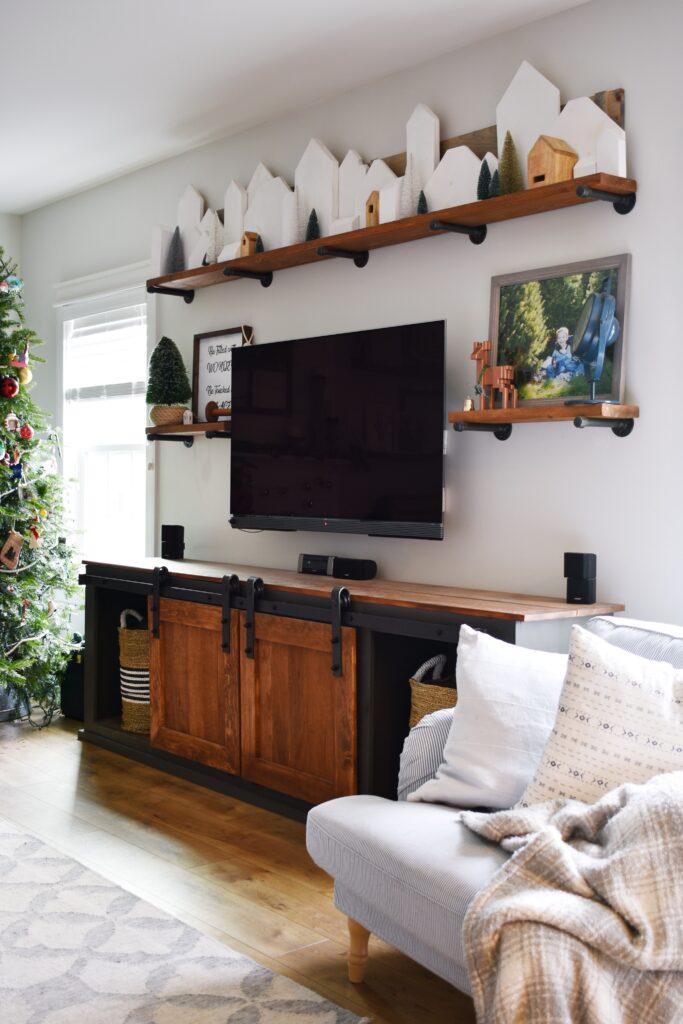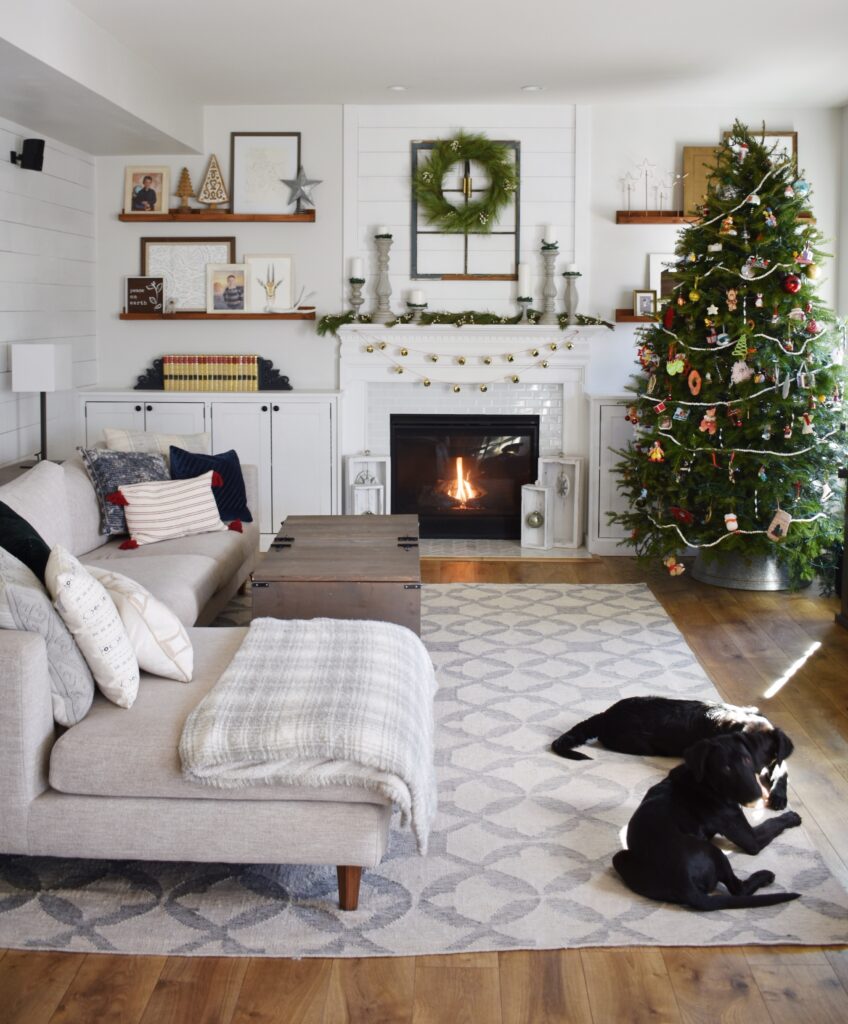 One of the most important things that I keep in mind is to not add any decorations that stress me out — in the living room I kept everything up high so the boys (and those crazy pups) can't destroy it.  In the morning room, I kept the kitchen table very livable so we can still eat dinner there with a few sprigs of pine, some berries, and a green burlap runner I bought when I finally found one of the scavenger hunt prizes from World Market!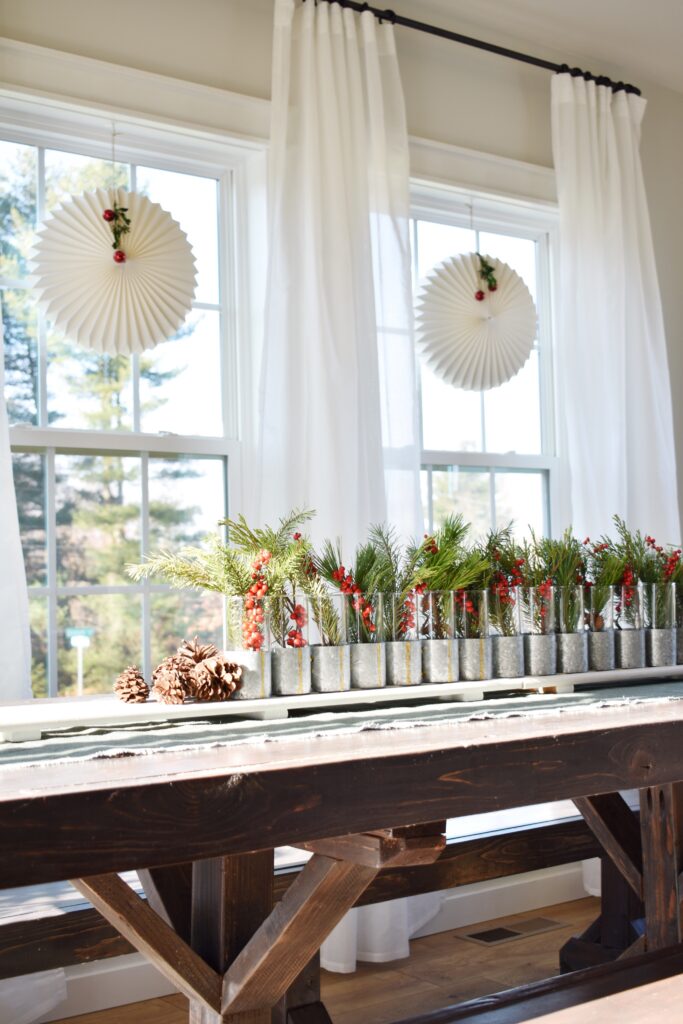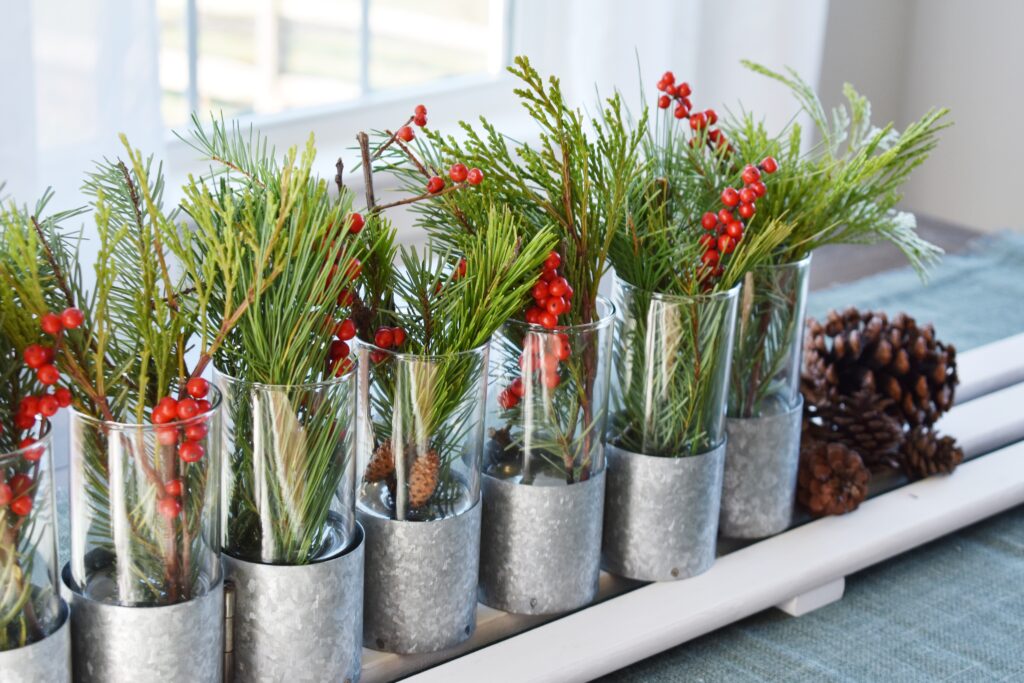 Moving on to the front of the house – I fully embraced the formality of these rooms and tried to inject a little vintage feel with lots of gold, lots of greenery, and a color palate I stole from my bowl of frosted fruit.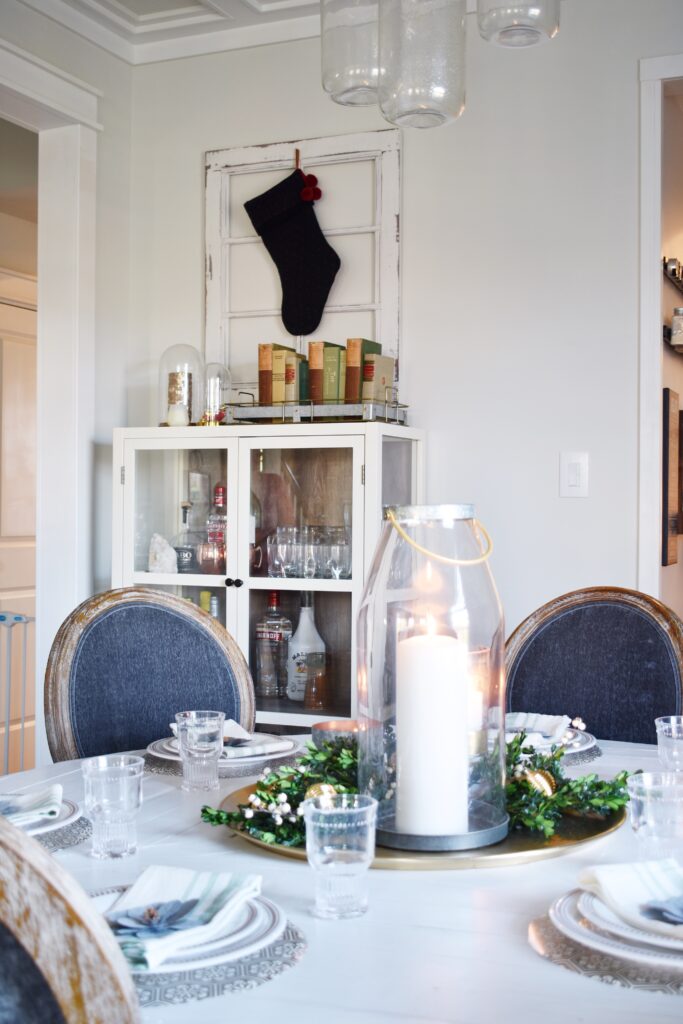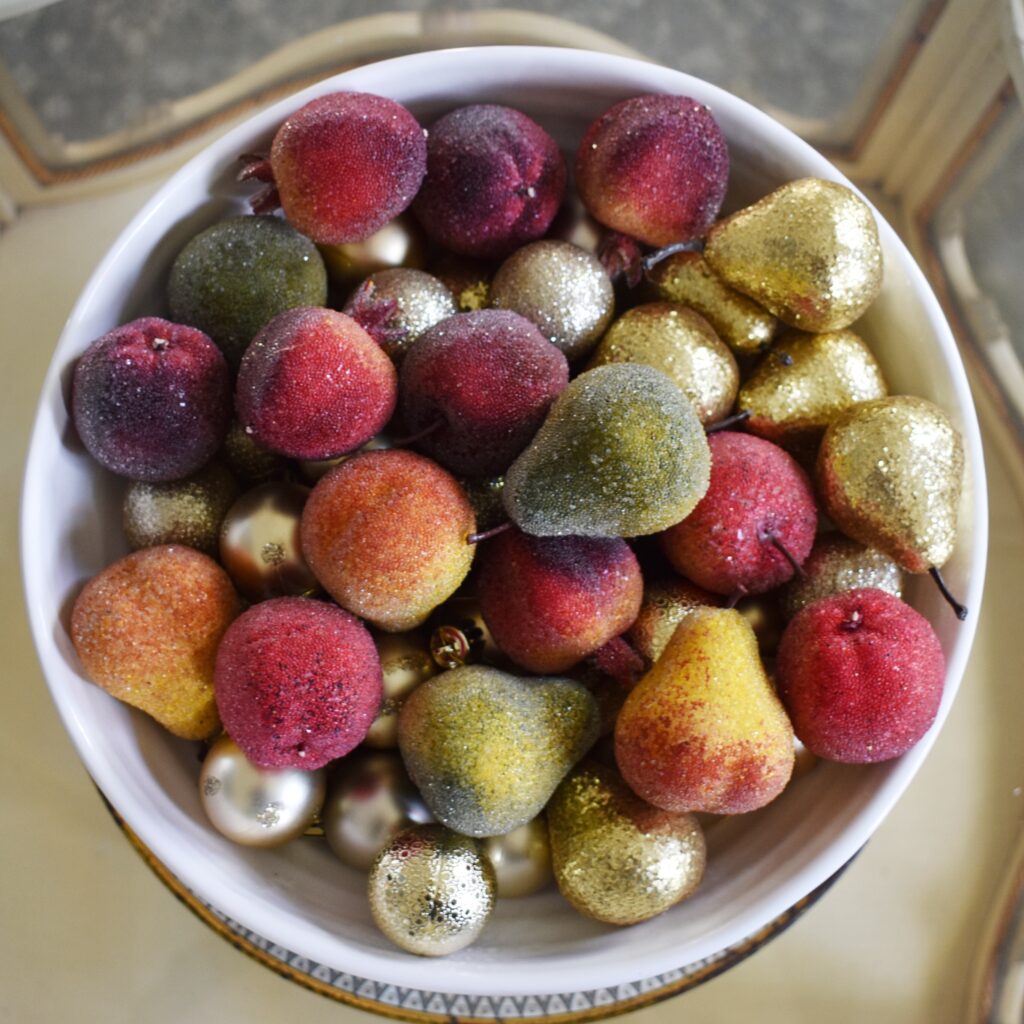 The tablescape centers around a group of my favorite candleholders and some beautiful faux boxwood and berry branches.  I re-used the same plates and cups from my Thanksgiving table and added some insanely gorgeous embroidered napkins (a ridiculous Hearth and Hand clearance find that I mat not let anybody use) and some galvanized metal flowers (also a great clearance find from Michael's).  The original chargers I ordered didn't come through, so I grabbed some leftover wrapping paper and cut some circles.  At least if we eat dinner in here on Christmas Eve I don't have to worry about the boys ruining them!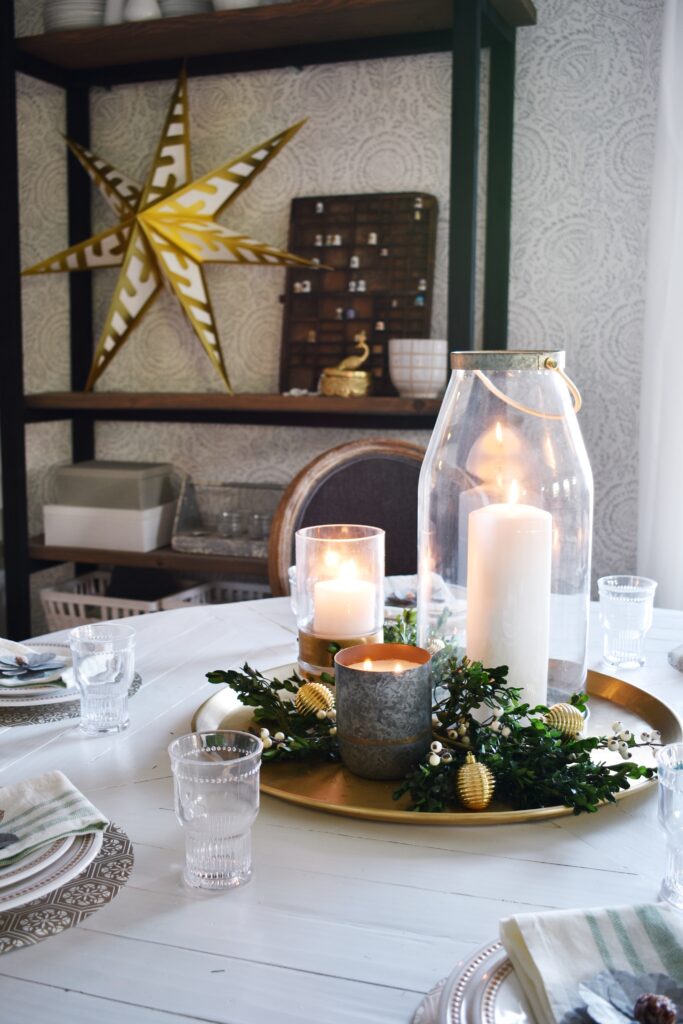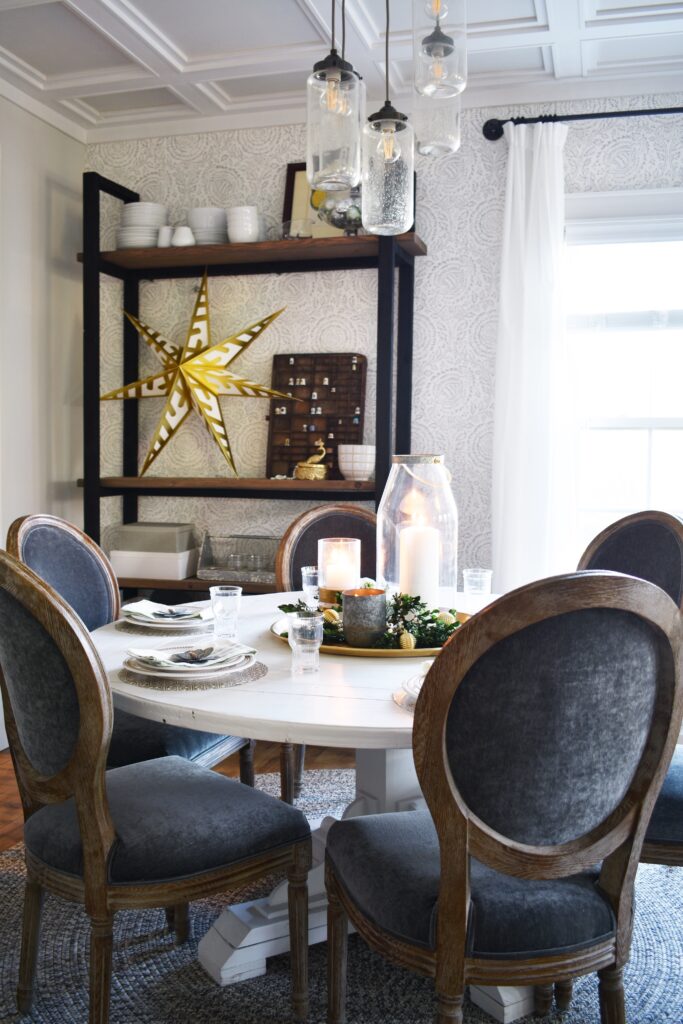 As I was planning the space it dawned on me that this room would be a great place for a really skinny faux tree (just like the one my grandparents had).  I picked an inexpensive one up on Black Friday and decorated it with lots of leftover gold oranaments as well as some bells (they were originally strung together but I broke them apart), some ribbon, and some perfectly imperfect salt dough ornaments that me and the boys made earlier in the month.  I also bought this crazy big basket for the bottom – it's comically huge but I'm kinda loving that about it.
The added benefit of the tree is that it ties into the greenery on the front room mantel.  I didn't want to distract too much for all the lovely details on the fireplace, so I kept the rest of the room super simple and just added some faux fur and textured pillow covers from IKEA.  I actually had planned to make a scroll to hang between the windows and had hung the butterfly print there just to test for size — but once it was up I really loved the way it perfectly matched the colors in the fruit bowl.  I know it's not remotely connected to Christmastime, but I think the wreaths hanging outside compensate for that.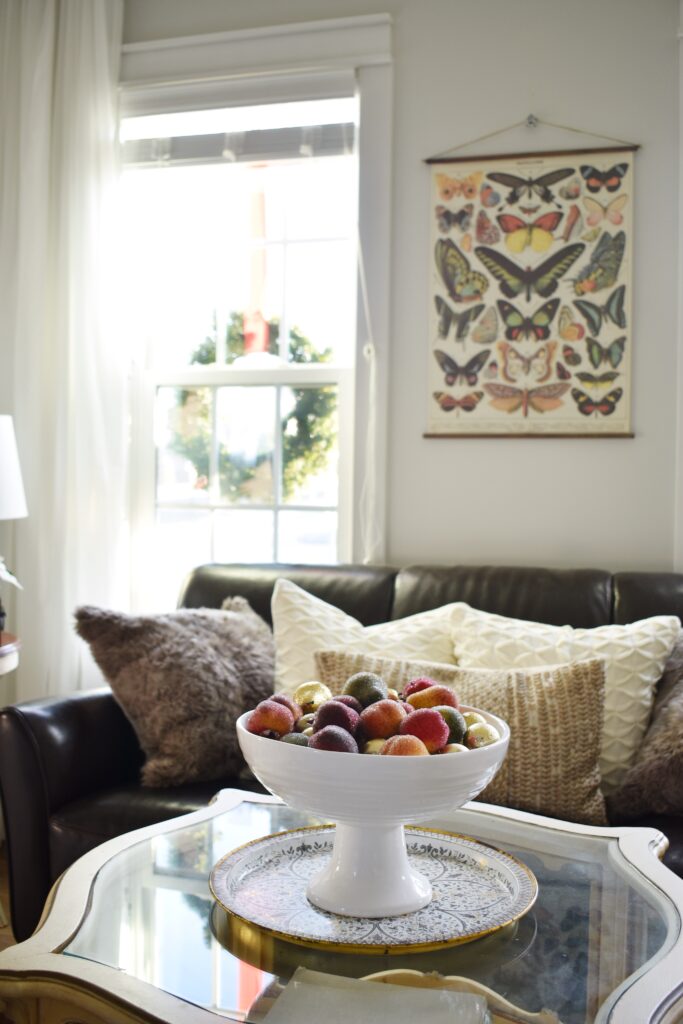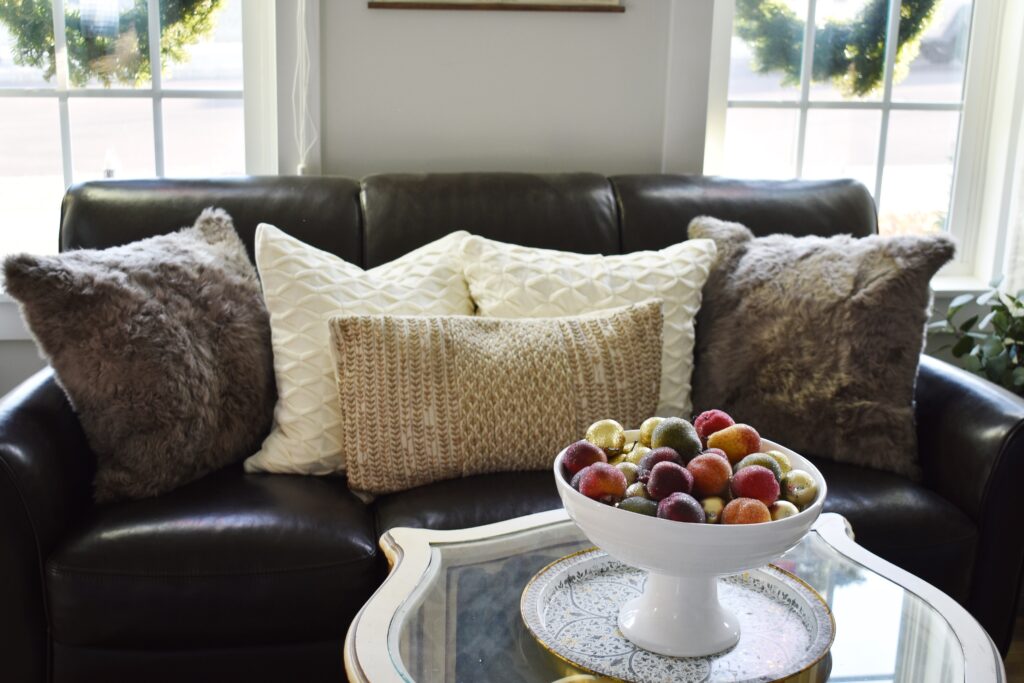 To be honest, I'm still not sure if the front and back of the house really relate to each other at all – but I'm not really fixating on it.  There's nothing better than when your house truly makes you smile, and that's totally where I'm at this season.  To all of those that celebrate I wish you a very wonderful Christmas – and to everyone I wish you an amazing New Year!  I will see you all next month to kick off 2019 by looking back at 2018.