It's my favorite day friends – reveal day!!!  I cannot wait to show you all of the finishing touches to my guest bathroom makeover – but first I have to say Thank You to the lovely Erin from Lemons, Lavender, and Laundry for hosting the $100 Room Challenge and supporting us all each week.  This was a much different experience for me than my usual room makeovers but it really pushed me to get resourceful and stretch my creativity.  If you missed any of the weekly progress posts you can check them all out at the links below – and if there's any DIY you want to know more about please feel free to leave me a comment!
Week 1 | Week 2 | Week 3 | Week 4 | Week 5
Disclosure: Some of the links below are affiliate links, meaning, at no additional cost to you, I will earn a commission if you click through and make a purchase.
One of my goal's with this project was to not only stick to the $100 budget, but to also keep the time I put into this space limited to nights and weekends.  I wanted to make this it as realistic as possible for somebody to DIY at home, especially since the major structural elements of the room didn't change.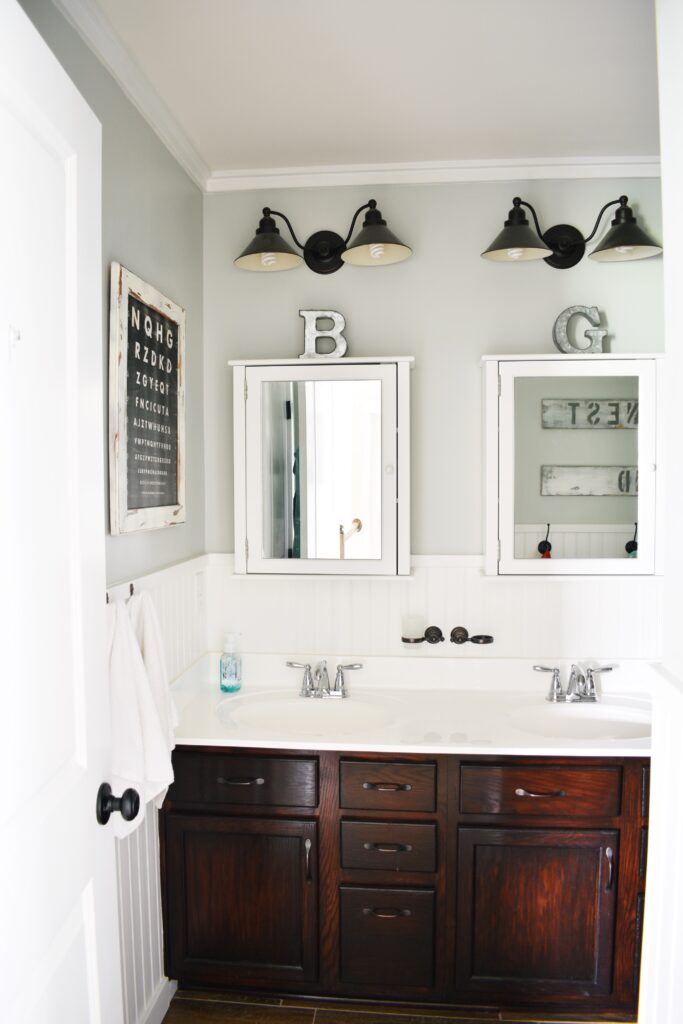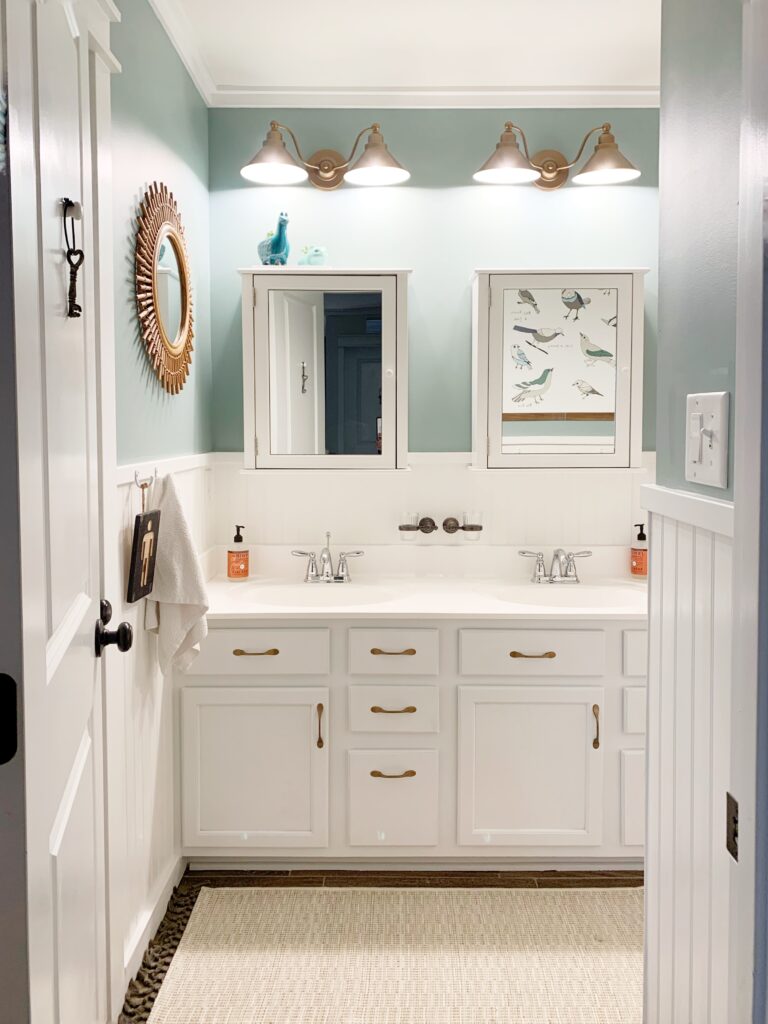 As I mentioned in Week One, the first DIY makeover of this bathroom was super cute and in another house (preferably one with a window) it would look fantastic, but it took me re-painting the walls (Halycon Green from Sherwin Williams) and the vanity to realize just how washed out the room looked beforehand.  The pops of copper from the painted light fixtures and cabinet hardware don't hurt either.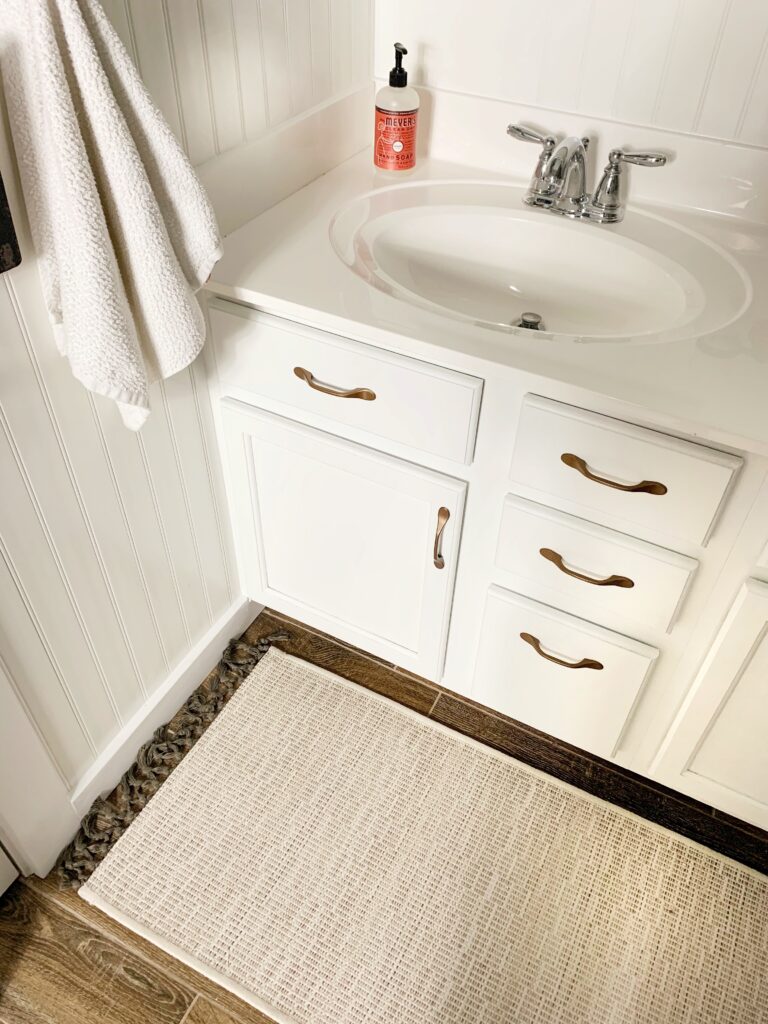 Now let's talk budget – going into the final week I had about $46 dollars left which I got to spend all on accessories thanks to Target.  I shop there every week for my pantry staples and I always keep an eye out for their "Spend $xx on Groceries Get a $xx Gift Card" deals – and over the holiday's I was able to save up enough to put toward this awesome indoor/outdoor runner.  For my shower curtain I had originally planned on DIYing my own – but then like magic a 25% off Bathroom sale popped up and I was able to grab this awesome Boho one for only a dollar or two more.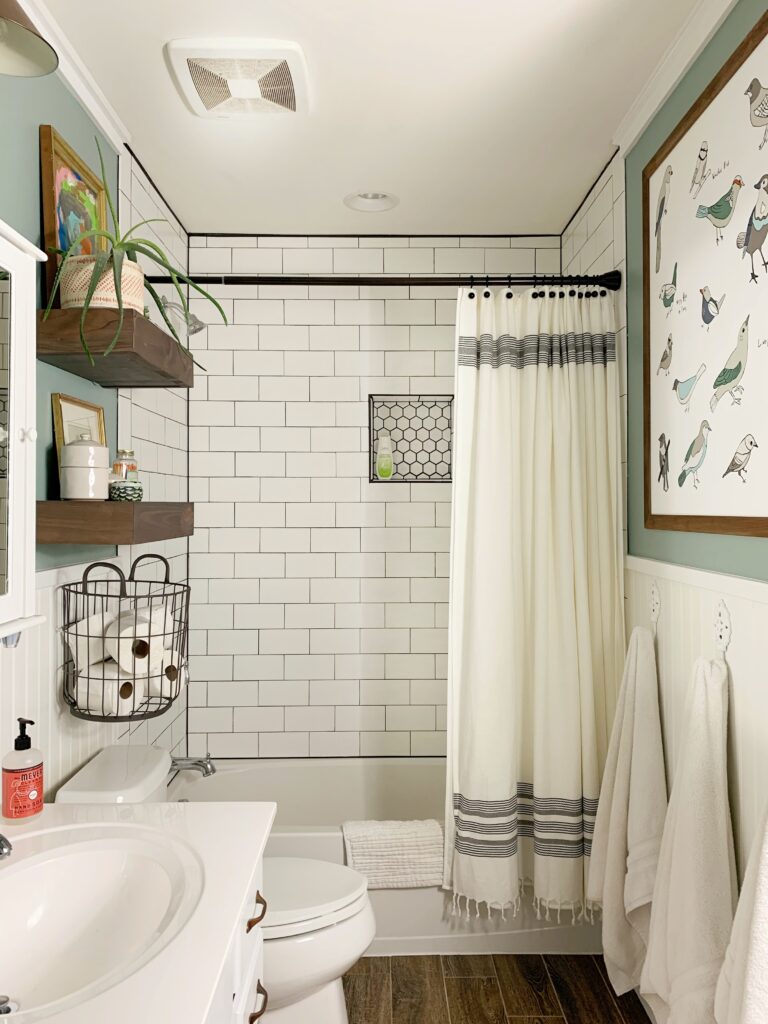 Earlier in the year I picked up two Hearth and Hand ceramic bathroom containers on CRAZY clearance (like 70% off!) and I paired them with a cute succulent print I picked up from the antique store for $6 and a painting that my little guy made on a snowy afternoon.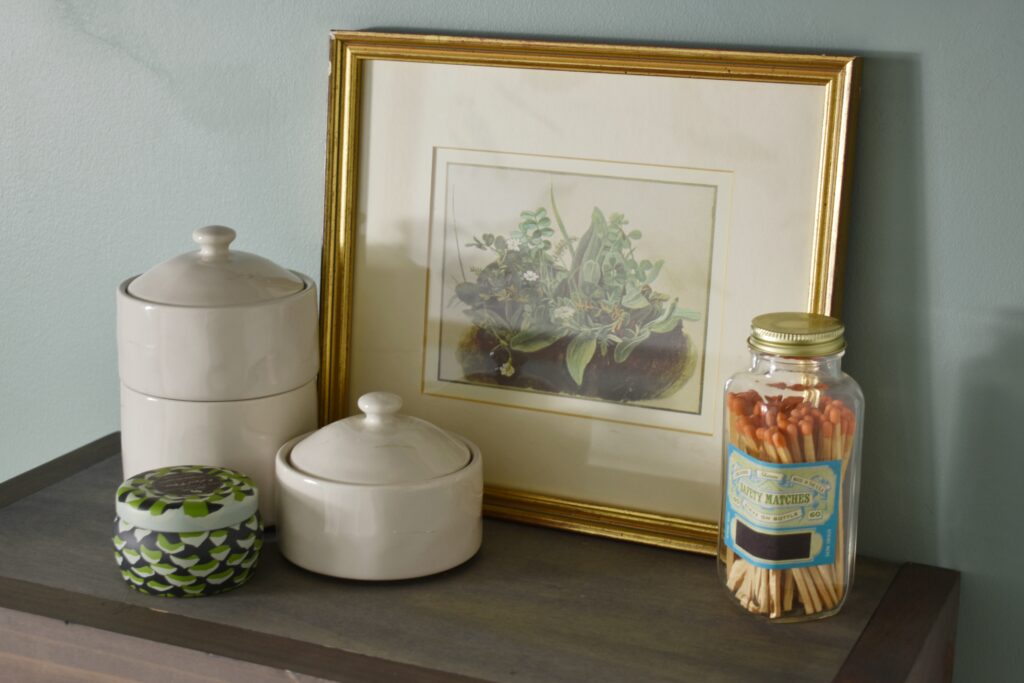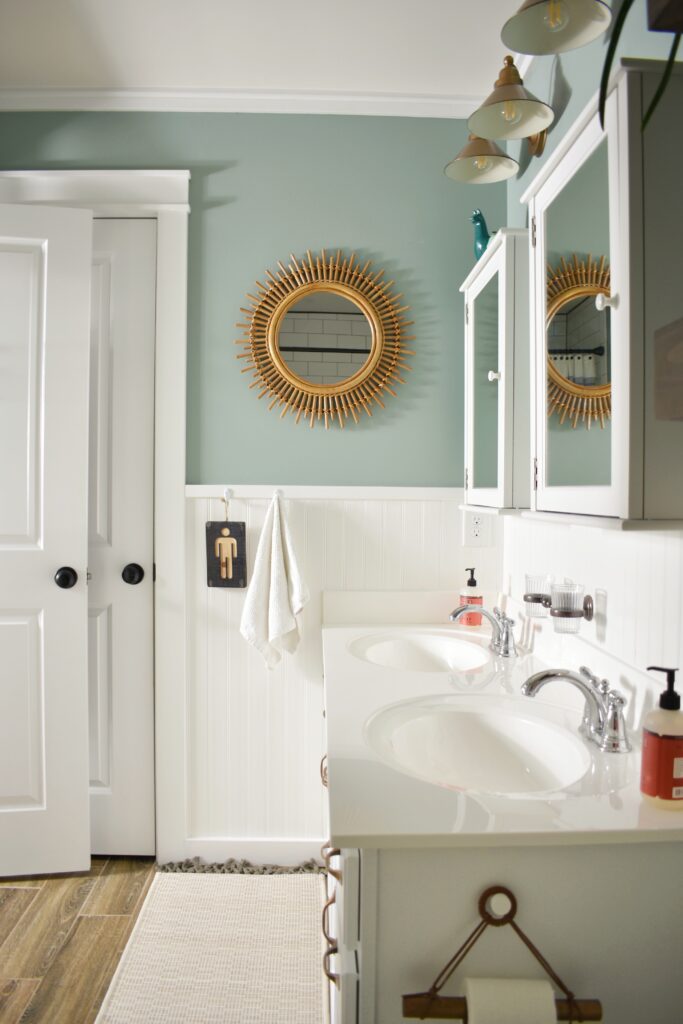 Besides that, everything else I used to style the space came from my favorite store – my own house – including this wicker mirror that has been sitting in my closet for years looking for a home and acts as the perfect stand in for an actual window.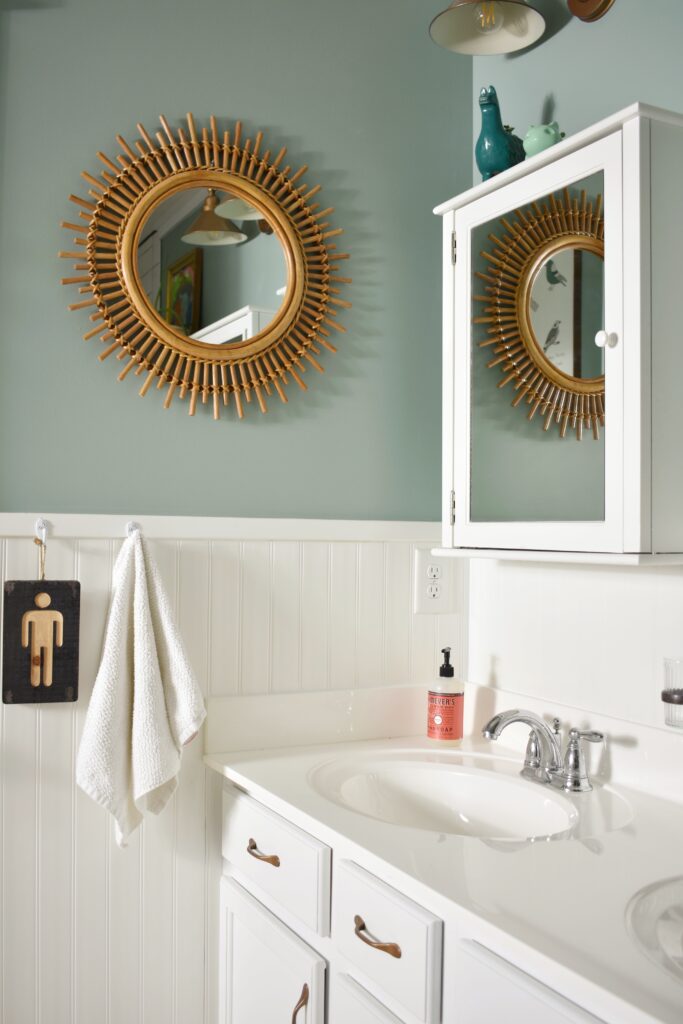 I went back on forth on replacing the black hooks, but I think these beautiful Indian inspired ones (they used to live in my master bathroom but they're originally from World Market) look great against the beadboard.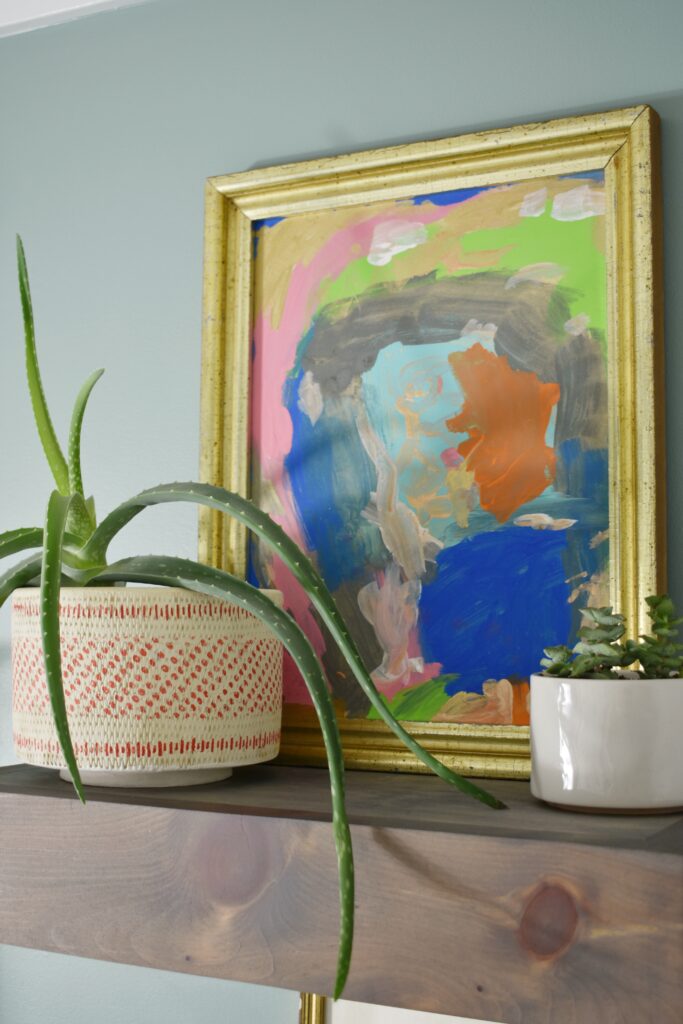 Oh – and I almost forgot! (Honestly I had to quickly grab this photo this morning because I truly forgot to take one earlier LOL) I had enough leftover paint to finish off the inside of the linen closet.  Using some scrap plywood and a few cheap 1×2's I covered up the annoying wire shelves, and I finally finished caulking the baseboards which only took me 3 years.  And I did the three super cheap things that anyone can do to give their room a good refresh – I purged, deep-cleaned, and organized not only the closet but the medicine cabinets and drawers as well.  I urge everyone to not forget this step if they're doing a room makeover!  Do not bring anything unnecessary back into a new space.
Believe it or not when you walk up the stairs this is actually the first room you see, mostly because the boys never remember to close the door, and now it feels like it belongs with the rest of the house – a little bit traditional, a little bit Boho, and a little bit quirky thanks to my hand-painted bird mural which I will never grow tired of.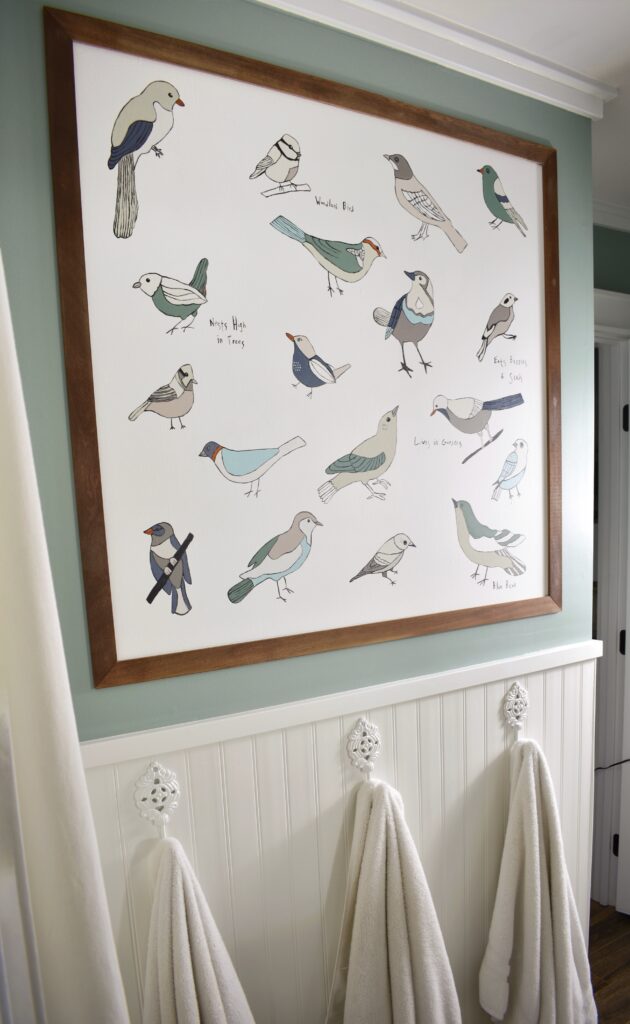 If you want some real fun here's a WAY BACK flashback to what the room looked like when we first moved in.  I gotta admit that even though I don't miss that white tile floor, all those little baby accessories bring back some happy memories.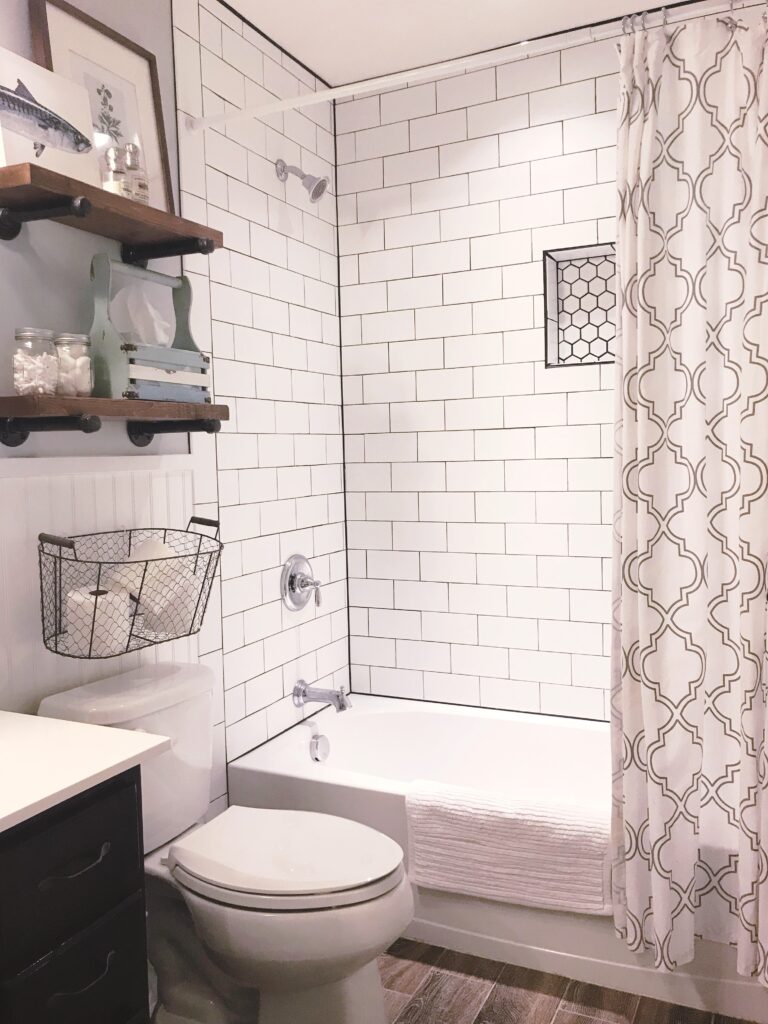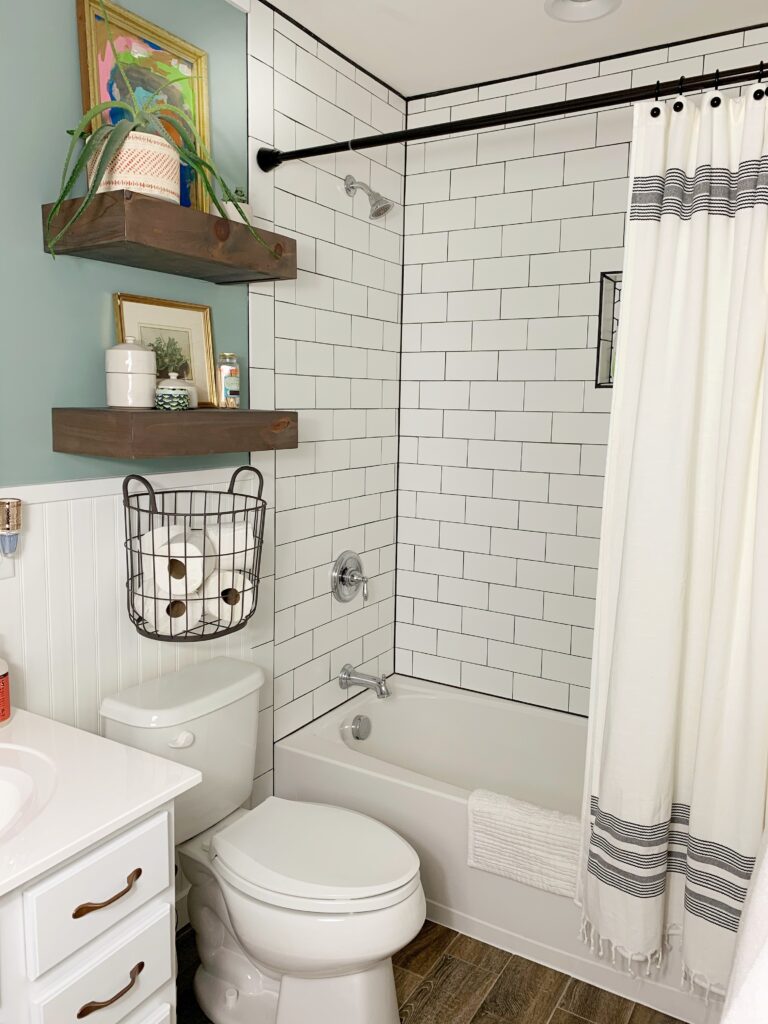 I literally went down to the last dollar on this one and here's how it all broke down:
Money Spent – $100.03
Paint for Vanity (Sherwin Williams Urethane Trim Enamel in Extra White) – $30.15 (used 30% off coupon)
2 Pack of Foam Rollers – $4.97
1 1/2″ Brad Nails – $4.67
White Paint Sample – $3.98
4 1/2″ Poplar Boards – $8.40
Wood Trim for Close – $7.00
Silver Rings – $1.89
Ceramic Containers – $8 ($4 each End of Season Clearance)
Accent Runner – $3.99 (on sale for $18.99 and used $15 worth of Target gift cards)
Shower Curtain – $15.99 (on sale)
Glass Cups for Vanity – $4.99
Succulent Artwork – $6 at the antique store
Supplies On Hand
Painting Supplies –
Large Paint Roller for Walls
Paint Trays (large and small)
Small paint roller
Painters Tape
Brown Paper
Angled Brush
Sherwin Williams Extreme Bond Primer
Bronze Spray Paint
Paint for the room – Sherwin Williams Halcyon Green
Various Small tester pots
Small Craft Brushes
Misc Home Improvement Supplies –
Liquid Nails
White Caulk
3M Spackle
Sanding Block
WeatherWash Stain
Early American Stain
Scrap Wood for Shelves
Wood Filler
Wood Glue
Dowel
Leather Cord
Cabinet Knob
Tools –
Pry Bar
Nail Gun
Caulking Gun
Putty Knife
Level w/Ruler
Miter and Table Saw
Pocket Hole Jig and Screws
Sander
Glue Gun
I have been so honored to be a part of this wonderful group of bloggers over the last 5 weeks and watch their projects come together.  Make sure you check out all of their amazing reveals and then let's see what you can do with $100 this year!
You are invited to the Inlinkz link party!